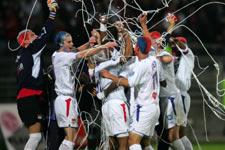 Check out the champions' reactions to the match between OL and Saint-Etienne.
Gérard Houllier: "First of all I'd like to congratulate the players and everyone that has worked for this club over the course of this incredible season. But I really take my hat off to the players.
"Tonight we have registered 81 points. It will be a record that's hard to beat. It's an emotional and very happy moment. We also saw a very good football match. In the face of such quality football, another goal or two wouldn't have been unreasonable. "

Benoît Pedretti: "That was a great win. Everyone was waiting for this match. We really wanted to celebrate in style and the atmosphere was incredible. There were goals and a real show. We needed to win and we did.
"We've really had an extraordinary season. Everyday the players looked forward to coming to training. It's an honour to play for OL and I hope it stays that way."

Claudio Caçapa: "We're very proud. We're champions and we deserve it. Now we have 81 points. Tonight we showed that we are real competitiors. 4-0 is a great scoreline. Especially against Saint-Etienne. Tonight we had fun!"

Sylvain Monsoreau: "It's great to play in such a game with plenty of goals. We're finishing the season well and we're very proud to be able to celebrate our title with our fans."

François Clerc: "For a player like me, that came through the youth ranks at the club it's extra special to reach 81 points and beat Saint-Etienne.
"I would also like to announce that I'm signing for OL for another four years. I'm delighted because it was always my first choice. It's my club and I'm proud to remain a member of this team. I'm happy with the deal because the atmosphere in this club is amazing. The fans are excellent and the staff has every confidence in me."

Check out all the reactions on video on OLWEB Premium.