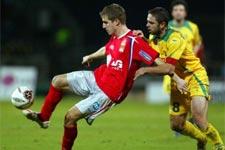 OL has always bounced back after a defeat this season, even after the elimination by Nantes in the Coupe de la Ligue. Hindsight merely proves Gérard Houllier's theory that a great team never loses twice in a row.
It was at Nantes in the Coupe de la Ligue that Lyon first tasted what it was like to be on the receiving end this season after a penalty shoot-out elimination. The following match they beat Sochaux, 1-0, at the Stade Gerland.

Their first actual defeat of the season was at Gerland against Lille, just before the winter break. Caçapa and Co returned to action in January with a 4-0 success over Strasbourg.

The second defeat was also at at home, this time against Rennes; but the Olympians responded in style, defeating Ajaccio, 3-1, in their next outing.

The third defeat was at San Siro against AC Milan. The future quintuple champions of France bounced back with three more league points at home to Nice, 2-1.

The fourth was in the Coupe de France, again at Gerland, against Marseille. Les Lyonnais erased that memory at the Parc des Princes four days later against PSG, 1-0.

The fifth defeat was last Sunday against Monaco...