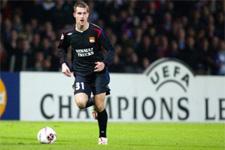 Following an article in Wednesday's L'Equipe sports paper claiming 'Clerc to extend contract and Wiltord puts the pressure on', Olympique Lyonnais, via administrative director Marino Faccioli reacts...
At what stage are the negotiations, firstly between OL and Sylvain Wiltord?
The club is currently in discussions with the player. The initial propositions have been exchanged and now the negotiations will continue.

And secondly, concerning François Clerc?
There again, we are still discussing matters and propositions.

So at the moment we can't talk about any agreements?
No I can categorically deny the claims in the article regarding François Clerc. There is absolutely no agreement between the two parties. I repeat, discussions are continuing.