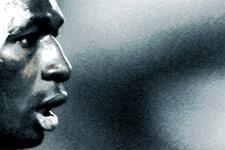 At the end of morning training, Mahamadou Diarra and Claudio Caçapa discussed the keys to the weekend's derby match against Saint-Etienne at a barbecue organised by the Olympian captain.
Mahamadou Diarra:

How has the start of the week been, just a few days before the derby?
We started to prepare for the derby this morning. After two days off we had started the week with a fair bit of running and opposition work. The derby between Lyon and Saint-Etienne is always a special match. Now we have to show a bit of fight.

Do you forget about the title during such a special match?
Yes. The titles already been won but we absolutely have to win this match. We also want to beat the record for the most number of points in a season. And as the coach always says: a good team never loses twice in a row. We failed to play well against Monaco so now we are obliged to play well and win against Saint-Etienne. We can't mess up this match. We'll look to have a good time, and to play well for our fans. I don't know if it will be an open match. That will be up to us to play our normal style.

What do you think of this Saint-Etienne side?
They are tough to play against. We prepared because we know that in football there are always highs and lows and games that are more difficult than others. We expect a very, very hard game. To win, we need to play our own game against a team that may be struggling at the moment but that is always desperate to play Olympique Lyonnais.



---
[IMG40506#R]Claudio Caçapa (dressed as a cook):

Claudio, why are you dressed like that?
Next year I'm going to sign a contract with Paul Bocuse and I hope to be as good as on the field. But seriously, I've organised this barbecue for my teammates because my little Mateus has just been born.

Is the derby already in your mind?
Absolutely. At the end of the Monaco match we started to talk about the importance of this match for our supporters. In front of our fans I hope we'll produce a really top match and win.

You'll be hosting Saint-Etienne with the title already won. Is that a bit of a shame?
No, not at all. We'll play with even less stress. Although there will still be pressure because the fans don't stop telling us that we can lose any game during the season, except this one. We have to be careful and not pay too much attention to the points gap between the two teams.