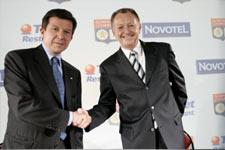 Jean-Michel Aulas (Olympique Lyonnais), Gilles Pélisson (Accor), Yann Caillère (Novotel in Southern Europe, the Middle East and Africa) and Hervé Jeanson (Ticket Restaurant France) presented the new partnership linking OL with the Accor group on Tuesday.
"This day marks an exttremely important step in the development of Olympique Lyonnais." It was with these words that the President of OL, Jean-Michel Aulas, began Tuesday's press conference, designed to present the new five year deal linking Olympique Lyonnais and the Accor group which will allow the club to "plan for the future before even celebrating the fifth consecutive crown." A partnership that will "give the club the means to match its ambitions," added Gilles Pélisson.

Having paid special homage to Stefano CHMIELEWSKI, who, after the last five years' partnership, accepted that to continue to work closely with OL as sponsors," Jean-Michel AULAS described this "new partnership of a size and ambition that will see the club move into a new era."
He evoked Olympique Lyojnnais' ambition, which is based on four objectives: "the internationalisation of the club and the arrival of a partner of international dimensions, the reinforcement of the club's capital and the start of construction for that indispensable tool – a new stadium." On this last point, the president of OL also recalled that the decision for the new stadium's location was imminent: "We are very close to finding a solution (…) before the end if the 2006 season." "It's a fundamental change in the size of OL," he concluded.

[IMG40500#R]Gilles Pélisson, head of the Accor group described the agreement as a natural alliance between two great industries, that of hotelier and services. He drew on the "traditional values of the group, which are confidence, responsibility, innovation and transparency," the Accor group hope to benefit from football's great ability to communicate and also profit from "the general hype which has engulfed the sport and filters through all its related media supports." This new deal also permits the group to reinforce the image association of the various marques" and give them "a little more soul."
In recognising the values vehicled by football, "team spirit ; solidarity, emotion, high performance, professionalism and success", the Accor group has engaged to stand side by side with Olympique Lyonnais because the club "carries this dream, shares these same values an dis recognised for its results and its sound management while always avoiding the evils of money and violence." .

For €9m per year (€3m for Ticket Restaurant and €6m for Novotel), Accor will benefit from strong visibility on the club shirts and stadium advertising of "the group's two flag ship products", Novotel and Ticket Restaurant. The Olympian shirt should also see OL recuperate €15m per year.

At the end of the press conference, the presidents, accompanied by Eric Abidal and Juninho presented the jerseys for the 2006/07 season.


---
[IMG40502#C]