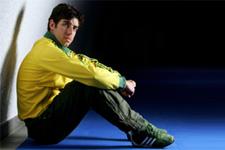 Five days before the derby, Juninho talks about the defeat to Monaco, the loss of form that has hit Lyon, the upcoming match against Saint-Etienne as well as the Coupe de France final between PSG and Marseille.
How important was the recent defeat to Monaco?
I watched the match on television and I think we started really well before losing our concentration. During these last few weeks, we've quite naturally lost a little concentration because we'd already won the competition that was ensuring we kept playing well. We love challenges and really tight battles. We always play best when we're up against it and need to get a result. As from Wednesday we'll get back to work. The points we win at the end of this season won't count for the next one. So now all we have to fight for are the records so we'll be out to break the 80-point mark. To achieve that will be something special.

On Sunday a big match against Saint-Etienne is waiting, how will you approach that game?
It's one of the last games of the season, and it's a derby. We want to finish what we started in the same manner. But we also know that it will be a tough game. Each player knows how important this derby is and will be really motivated to play well. But we have to be careful because we they have nothing to lose.

To get a good result, you will have to play better than in the first match...
The first match was very, very tight and we created a lot of chances, but we just couldn't score. But as opposed to that day when the pitch was frozen, everything is coming together for a great match. Rivalry is always part of a derby but it has to be accompanied by respect. May the best team win... and I hope that will be OL.

[IMG40503#R]The same weekend there's another match taking place between PSG and OM. It seems to be all anyone is talking about, do you think that's normal?
Absolutely. Everything says that this match should hog the limelight. OL was crowned league champions two weeks ago, it's the final of the Coupe de France and it's between OM and PSG. They may not have got the results in recent seasons but they remain two great clubs. It should be a great game to watch and very different to their last meeting. Marseille and Paris have a responsibility to represent France well. Along with OL, they are the two most popular teams. If I had to pick a winner I'd say OM probably have a better chance of winning. They seem a little more confident and they're finishing the season well. Since their victory at the Stade Gerland they are getting some great results. Now they have to go on with it of course. In football it's always harder to continue winning, as Rennes showed when, despite a great run they came unstuck at the final hurdle.