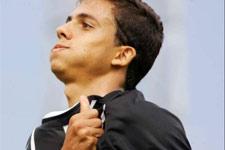 Contrary to what was recently announced in the press, concerning Brazilian striker Nilmar, the club Corinthians have not engaged the buy-out option, fixed at €10m, of the current loan deal.
Nilmar was loaned by Olympique Lyonnais at the start of the season to the Brazilian First Division club.
In the traditional awards ceremony, held by the Brazilian football media, the international was rewarded with several awards including Highest Scorer in the Paulista League, Best Striker and Best Player in the competition.
OL confirms, however, receiving several propositions concerning the talented 21-year-old.