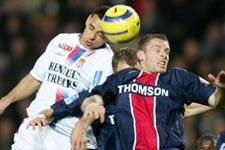 Gérard Houllier announced in January that he wanted the French champions to compile the most points in both the first and the second halves of the season. It looks as though they are right on track...
It's something that the 2004-05 side has already achieved. Champions at Christmas with 39 points, Paul Le Guen's Olympians finished with the grand total of 79, after amassing 40 in the second half of the season. Rennes 32 and Lille 31 were left far behind.

This season, Claudio Caçapa and Co counted 44 points at the end of December and they now have 78 points in total, four games from the end. In other words, 34 points since January. Rennes are the principal rivals with 30 points, Bordeaux third with 29…

Another impressive figure? Les Lyonnais have already scored 15 headers in the league (the league leaders); a record in the last five seasons. 15, for the moment: Fred 4, Wiltord 3, Carew 2, Tiago 2, Diarra 1, Caçapa 1, Cris 1, Govou 1. 12 headers in 2004-2005 (Essien 3, Diarra 2, Cris 2, Govou 2, Wiltord 1 and Clément 1). 7 headers in 2003-2004 (Elber 2, Malouda 2, Essien 1, Luyindula 1 and Caçapa 1). 7 headers in 2002-2003 (Luyindula 2, Chanelet 1, Laville 1, Diarra 1, Juninho 1 and Caçapa 1). 5 headers in 2001-2002 (Née 2, Foé 1, Luyindula 1 and Govou 1).

One more? The incredible number of just 7 goals conceded away from home. 10 matches without conceding a single goal (Nantes, Sochaux, Metz, Nancy, ASSE, Auxerre, Strasbourg, Toulouse, Troyes and PSG). 7 matches with just a single goal conceded (Le Mans, OM, Bordeaux, Lens, Rennes, Nice, Ajaccio). It has never happened that a team has finished the season by conceding less than 10 goals away in a single season (11 goals for PSG in 1988-89) and no side has ever finished the season without conceding more than one goal in any single away match.