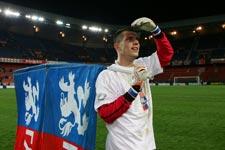 Four days after the Olympian club was crowned champions of France for a fifth consecutive season, Rémy Vercoutre, a prominent figure in the closing stages of the match against PSG talks about his return to training as well as the match between AC Milan and Barcelona.
Rémy, comment se sont passées ces festivités d'après titre ?

Très calmement. Toute ma famille était présente chez moi à l'occasion du week-end pascal. J'ai donc profité des miens durant ces instants. Cela m'a fait du mien. J'ai retrouvé mon petit garçon qui sait désormais dire champion. C'est une très bonne chose.

Are you happy to be back training this afternoon?
Yes, it feels good. It's good to get back together and discuss what did with the time off. Now we have to get back to work because we've still got a lot of goals for this end of season, starting with a difficult trip to Monaco.

Did you watch the match last night between Milan and Barcelona?
Absolutely. The match went exactly as I thought it would: Milan and Barcelona are two big teams but unfortunately for the Italians they lacked a bit of luck in front of goal. They didn't enjoy the kind of success they did against us.

Ludovic Giuly, a former Lyon player scored the winning goal, is that some sort of sign? Yeah, it is kind of symbolic. Perhaps, in a way, it was vengeance for us. It was good.