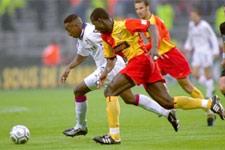 Isn't it great to look back at a radiant past, safe in the knowledge that the present isn't just as beautiful? OL was crowned this season with a fifth consecutive title in April, whereas the four previous ones arrived in May…
2001-2002

4 May, 2002: OL 3-1 Lens:

Les Lyonnais had to win... Lens only needed a draw. After 14 minutes the Olympians were on their way thanks to an eighth minute Govou shot and a low Violeau volley just before the quarter-hour. Former Lyon hero Bak (26') gave the Blood and Gold a glimmer of hope, before a superb Juninho run set-up "Pierrot" Laigle for the third goal and OL's first ever league title. What a match and what an atmosphere… unforgettable!

Lyon: Coupet - Chanelet, Caçapa, Müller, Bréchet - Violeau, Juninho (Carrière 65), Linares, Laigle - Anderson (Laville 90), Govou (Delmotte 81).



---
[IMG40470#R]2002-2003

20 May, 2003: Montpellier 1-1 OL:

The match was over in just half an hour... just the time it took for Bamogo to open the scoring for Montpellier (14') and for Juninho to equalise (26'). For the next hour, between the hosts who needed one point to stay up and the Lyonnais who needed one point to win the league, the match was played out an easy pace! It didn't even matter because Monaco lost and with one game remaining, OL led OM by three points and a positive goal difference of +19.

Lyon: Coupet - Bréchet, Caçapa, Müller, Deflandre - Dhorasoo, Violeau, Juninho (Diarra 83), Carrière - Govou, Anderson.


---
[IMG40471#R]2003-2004

16 May, 2004: PSG 1-0 OL:

The penultimate round of matches; one eye on the Parc des Princes, the other on Monaco. Pauleta's early goal from Fiorèse's service (6') would change nothing. Monaco left their three points at home against Rennes, 1-4. So Coupet and Co celebrated at the Parc with a three point lead over their Parisian rivals in second but a goal difference of +14.

Lyon: Coupet - Edmilson, Müller, Berthod, Essien (Deflandre 72) - Juninho, Diarra (Govou 61), Malouda, Dhorasoo - Luyindula, Elber (Viale 77)


---
[IMG40472#R]2004-2005

8 May 2005: OL 2-1 Ajaccio:

It was only a question of time. Unlike the previous seasons, there was no doubt that OL would be champions. Govou opened the scoring on 36 minutes. Demont equalised just after the break (52'). It took a symbolic Caçapa header on 63 minutes to send OL level with Saint-Etienne and Marseille as having won four titles in a row. Lille were still second, but 11 points behind with just three games left.

Lyon: Coupet - Réveillère, Cris, Caçapa, Abidal - Govou (Nilmar 82), Essien, Diarra, Juninho, Malouda (Clément 90) - Wiltord (Bergougnoux 85).