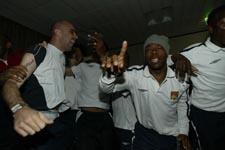 Check out the players' reactions, just moments after the match between Lille and Bordeaux which saw Les Lyonnais crowned champions of France for the fifth consecutive time.
Sylvain Wiltord: I'm really happy. I was champions in England and again in France. I had the luck to play for successful sides. I always tried to bring my experience and my desire to win to the table. I always play to win without forgetting that it's a pleasure to play for this team with such quality players. It's a team with perfect balance: young players, Brazilians, Portuguese which enliven the changing-room. Our good results just reflect the good mood in the team. We always stick together and pull in the same direction to reach our goals. It wasn't always easy with a large squad and a lot of turnover.
To define our team in a nutshell, I'd say we're a real team, collective, talented and successful. All those things are necessary to win the league. The characters of the player have also played an important role in our success.

Sydney Govou: I'm one of the players in France that has five successive league titles, so obviously I'm delighted. I don't think it's fully sunk in yet. Even in Europe, there aren't many teams that have done what we've done. When I think about when I started out in football, I never imagined anything like this. I'm very proud of what I've achieved up until now in my career.
If I had to name Lyon's biggest strength, I'd say its consistency. Each year we manage to build on the one before and that means we continue to improve. Tomorrow I want to have a big match because I love playing at the Parc des Princes. To play in this stadium is always something special. Even if we've been crowned champions in front of the TV, I still think we'll want to play well tomorrow.
I dedicate this fifth title to all the people that believed in me when I arrived at Lyon. I also have a little thought for all my coaches and also for "Blach".

Grégory Coupet: With 5 titles, we feel a little bit different, we've achieved something unbelievable, even if we saw it coming.
This year, it's different again because we won it sitting in front of the television, all together. It's a victory for the whole club and our secret has always been our team spirit.
All the same, we want to finish the season well and get a few more records. We have to keep it honest.
Next year we'll try and make it six. For me, a Michael Jordan fan, I want to achieve the same dream as him. We'll also try and win this Coupe de France while the Champions League will be one of our goals, but I try not to talk about it too much. We're still learning and we still want to grow a little bit more.
Our greatest force is to never rest on our laurels, and always try a bit harder. If I had to choose the best I'd choose the first because it was the first and we won it on the final day against the team that finished second. The fifth is also great, because it puts us into history.