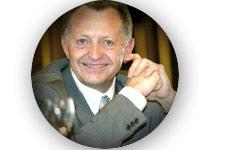 Les Lyonnais have done it; they are champions of France for the fifth consecutive time. The Olympian club now stands alone in France for having won so many league titles in a row.
5 titles after 181 Ligue 1 matches. The first was won on the final day of the season against Lens (Week 34); the second in Wk.37 at Montpellier (1-1); the third, again in Wk.37 in Paris (0-1); the fourth in Week 35 thanks to a 2-1 win over Ajaccio; and the fifth, without even having to play their 34th match of the season against PSG!

First in the honour roll must be Jean-Michel Aulas, the President in France to have achieved such a feat. Without forgetting his special consultant Bernard Lacombe.

4 players played a huge role in all 5 titles: Coupet, Govou, Cacapa and Juninho. They are the only players with five league crowns. 169 matches for Greg, 150 for Sid, 153 for Juni and 109 for Captain Claudio.

Diarra and Müller follow with four.

Malouda, Réveillère, Bergougnoux, Berthod, Clément, Puydebois, Luyindula, Edmilson, Carrière, Deflandre, Delmotte, Violeau won three.

Essien, Cris, Frau, Abidal, Wiltord, Diatta, Ben Arfa, Benzema, Elber, Balmont, Viale, Dhorasoo, Vercoutre, Brechet, Anderson, Chanelet, Née, Laville, Hauw, two.

Nilmar, Gomez, Sartre, Vairelles, Touré, Montoya, Bak, Foe, Laigle, Linares, Marlet, Clerc, Monsoreau, Pedretti, Tiago, Fred and Carew, one. 54 players crowned with OL up until now. Clerc, Monsoreau, Pedretti, Tiago, Fred and Carew were crowned this season. 23 players are currently with OL, not counting Nilmar and Frau loaned out.

There are of course the staff behind the scenes that had such a vital role in winning five league crowns: Bats and Duverne won five. Paul Le Guen and Yves Colleu, three. Dominique Cuperly and Rémi Garde, two. Jacques Santini, Patrice Bergues, Alain Olio and Gérard Houllier, one.

The medical staff in it's entirety had the honour of being involved in all five: Jean-Jacques Amprino, Abdel Redissi, Patrick Perret, Georges Halatas. And of course Guy Genet aided by the loyal Didier Rajat.