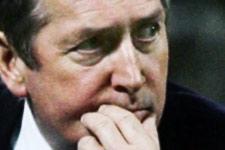 With the Lyon treatment room empty and a fifth title just hours away, Gérard Houllier has decided to name a 24-man squad for the match against Paris-SG on Sunday.
The Squad :
Coupet, Vercoutre, Hartock – Réveillère, Clerc, Diatta, Cris, Cacapa, Müller, Monsoreau, Berthod, Abidal, Clément, Pedretti, Juninho, Tiago, Diarra, Wiltord, Govou, Malouda, Carew, Fred, Benzema, Ben Arfa.

Gérard Houllier

Gérard, while 24 players?
I'm taking the whole squad just in case. If we are champions I want to have everyone there that contributed to this title. All the players are ready. Depending on the result of Bordeaux in Lille I could make two or three late changes. Because we don't have big heads and we want to pass the moment together, we'll be watching the match in our hotel in Paris.

Do you have a preference for how you'd like to be crowned?
With 75 points from 33 matches, I don't think there's much doubt we're the champions on the field. We've achieved something incredible. By the way, I think we were crowned champions after our victory against Troyes.

A word on PSG?
This team seems to have a good base and is enjoying a little more luck of late – they're playing better. The news that there's a new owner seems to have brought a favourable reaction. But had a go at my friend Cayzac, telling him he wouldn't be debuting with a win. We'll have to be solid, focused, like each time we've travelled this season. We have to remain invincible on the road.

How do you feel on the eve of returning to the Parc?
I'm very happy. I won a historic league crown here with PSG and now one with OL, along with 20 years in between. The desire to win at the Parc has nothing to do with France-Bulgaria…

If you are crowned champions this weekend, will that change anything for the rest of your season?
No, I have absolute confidence in the players' professionalism. We'll just add more value to our title in the final weeks.