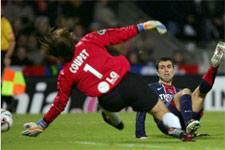 Check out some statistics concerning the Parisians and the Lyonnais ahead of Sunday's clash at the Parc des Princes…
Pauleta

The Portugal striker has scored 117 goals in Ligue 1 since arriving in France in 2000 with Bordeaux. Since August 2005 he has scored 20 goals in the league (leading scorer), four goals in the Coupe de France and two goals in the Coupe de la Ligue – in other words: 26 of PSG's 57 goals this season!

He has played Lyon on 11 occasions (six with Bordeaux and 5 with PSG), scoring twice. Both goals came in the 2003-04 season: 1-1 at the Stade Gerland and 1-0 for PSG at the Parc des Princes. Last season, he may not have scored, but he lay on the winning goal for Ljuboja (1-0).

With his 117 goals, he is just behind Lilian Laslandes, the top scorer in Ligue 1 currently playing (120 goals). He is at home playing at the Parc des Princes: 16 of his league goals and three of the Cup goals have come at his home ground.

In 2004-05, he scored 14 goals; in 2003-04, he scored 18; 23 in 2002-03; 22 in 2001-02, the year in which he was named Golden Boot with Djibril Cissé. He has four games left to beat his record.

Gérard Houllier

The last time Gérard Houllier was sitting on the bench at the Parc des Princes? 17 November, 1993 for France's elimination in World Cup qualifying at the hands of Bulgaria (2-3). Gérard will rediscover the stadium where he celebrated winning the 1986 league crown with PSG thanks to a 1-0 win over Monaco (goal to Séne).

Vikash Dhorasoo

The former Lyon midfielder played at Le Havre and Bordeaux before joining OL. He has played against the Olympians: eight times with Le Havre (four wins and four losses) and twice with Bordeaux for two defeats. In the first match this season with PSG he lost 2-0 at the Stade Gerland.

The last four PSG – OL at the Parc

2001-2002: 2-2 (Née and Govou for OL and Okocha and Ronaldinho for PSG).
2002-2003: 2-0 (Heinze and El Karkouri for PSG).
2003-2004: 1-0 (Pauleta for PSG).
2004-2005: 0-0.

Govou's 27th minute header back on 14 October 2001 is the last time Lyon scored at the Parc des Princes.

The last of the Mohicans

Of the Lyon players that won the club's first league crown, only Coupet, Juninho, Cacapa, Müller and Govou remain. "Greg" "Sid" and "Juni" have played in three of the four games at the Parc; Claudio and Patrick have played two. For the Parisians: Letizi has played three of the four and midfielder Edouard Cissé two.

Monsieur Bré

He refereed the PSG 2-0 OL on 4 December 2002 and will referee again this Sunday.