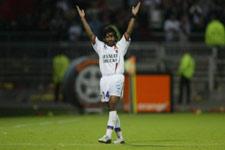 This Sunday will be the 27th meeting between PSG and OL in Paris. The first clash was back in the 1971/72 season when Lyon won, 2-1…
The head to head record:
13 wins for PSG, 8 draws and 5 victories for Olympique Lyonnais. 46 goals scored by PSG compare to 24 by OL.

The last five meetings:
2000/2001, Wk.15 - 1-1
2001/2002, Wk.10: 2-2
2002/2003, Wk.18: 2-0
2003/2004, Wk.37: 1-0
2004/2005, Wk.15: 0-0

Now OL wins... three draws and two Parisian triumphs...
6 goals for PSG against 3 for Les Lyonnais…

The Mercato:
The return of Paulo Cesar from loan spell witll Santos and the departure of Ibisevic to Dijon.

PSG's League record:
At home:
17 matches, 11 victories, 3 draws and 3 losses. PSG lost at home to Nice 2-0 , Lens 4-3 and most recently against Le Mans 1-0.

32 goals for, 15 against; they are the fourth ranked home team in the league, 3 points behind Lyon.
At home, PSG have beaten Bordeaux, Auxerre, Rennes, Lille – the three teams fighting for the Champions League place…

In the overall standings: PSG is 8th with 50 points, one point behind Marseille. The Parisians are 25 points behind Lyon.
PSG held top spot three times this season and was second for eight rounds.

The top scorer:
Pauleta has scored 20 goals.

The most used:

Rozehnal has played 34 matches, Pauleta 33.

Cautions:
Sylvain Armand and Edouard Cissé have both been sent off twice…

Coupe de France:
Qualified for the semi-finals against Nantes at the Stade de la Beaujoire.