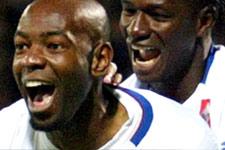 Just two days before the clash at the Parc des Princes, the Olympique Lyonnais captain discusses the atmosphere inside the OL camp and their recent performances...
How have you dealt with the last week?
Normally. We have trained well as usual. Unfortunately we were eliminated from the Coupe de France by Olympique de Marseille. Apart from that set-back, everything's gone normally.

With no more cup competitions and the championship victory a mere formality, what's the atmosphere like inside the group?
The atmosphere within the team is always great. It's the most important thing in our squad. It's one thing we can't afford to lose. Obviously were down and out after losing in the Champions League and the Coupe de France. All the same, we're experience players and we know that losses are part of football. A few days after eliminations, the joy of winning returns. We start to laugh again and enjoy playing together. We will try and be champions as soon as possible, why not Sunday?

In case of victory this Sunday, the final games of the season won't have match at stake. How will you approach them?
Those final games won't be friendly matches, but very important games, especially for the players who want to go to the World Cup. A few still need to perform well to prove to their national coaches they have what it takes. There are five games left and we'll play them with the same intensity as if we still needed the points.