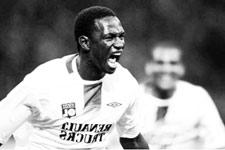 Three days before a match that could see OL crowned French champions for the fifth consecutive season, Mahamadou Diarra discusses the match against PSG and reiterates his desire to register the win in the capital that has eluded the Olympians in recent years…
On Sunday, the match against PSG is going to be important, not ust for the title. What do you think?
I agree. There will be a lot at stake. But first and foremost, we can be crowned champions. We really want to win in Paris because that will re-motivate us for the end of the season. What's more, no player in the squad has ever won at the Parc des Princes yet. I think all of us want to get that win and return Lyon to the top of the pile. We want to win for us, but also for the fans to erase the painful memory of our defeat to OM.

Paris is a good place to be crowned champion of France...
It is indeed, a superb city and a superb stadium in which to celebrate our league title, as was the case two years ago. But I repeat: this time we want to be crowned with a win.

After bowing out of the Champions league and the Coupe de France, do you have the feeling that people have forgotten OL is about to make history?
Not at all. Obviously we were beaten by Milan and Marseille, but you have to accept that football is about winning and losing. Unfortunately we've had a two-week bad spell at the most important time of the season, but we mustn't forget that we are about to right a new page in French football history. Never before has a team won five titles in a row. We are going to do it, but we'll also set a record for the most number of points in a single season. That will be incredible.

What do you think about PSG?
Paris is a very good and big team, very strong like us. All the same, I think if we can make a good start than we'll soon forget about the fatigue and the disappointment, we'll be ready for a big match.