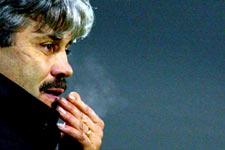 This will be the 26th Ligue 1 meeting between OL and PSG at the Parc des Princes. With four games left to play, the Parisians are eighth in the standings, 25 points behind Lyon who have a match in hand (v Monaco).
In 34 matches, PSG have 13 wins, 12 draws and nine defeats; 41 goals for, 31 against. At home Pauleta and Co have a good record: 11 wins (PSG 4-1 Metz, PSG 2-0 Toulouse, PSG 1-0 Strasbourg, PSG 2-1 Lille, PSG 2-0 Nantes, PSG 1-0 Nancy, PSG 2-0 Rennes, PSG 3-1 Sochaux, PSG 2-1 Troyes, PSG 4-1 Auxerre, PSG 3-1 Bordeaux); 3 draws (PSG 0-0 Monaco, PSG 2-2 ASSE, PSG 0-0 OM) and 3 defeats (PSG 1-2 Nice, PSG 3-4 Lens, PSG 0-1 Le Mans). 32 goals for, 15 against. The Parisians have the best home attack in the league.

Pauleta has scored 20 goals, Kalou 8, Pancrate and Yepes 3, Cisse and Landrin 2, Paulo César, Rothen and own goals (Auxerre) 1. Pauleta has scored one hat-trick (Bordeaux) and four doubles (Toulouse, Lille, Lens and Rennes). 3 goals have been scored away from the Parc des Princes for the Portugal striker (Troyes, Bordeaux, Strasbourg). The L1 leading scorer has scored 13 goals with his right foot, two with his left foot and five headers; 2 penalties and 2 free-kicks. Dhorasoo and Co have scored 36 goals from inside the penalty area and 5 from outside; nine headers; one from a corner; 16 from crosses; two from free kicks; two penalties; three free-kicks; 1 own goal. Kalou has supplied five assists.

31 goals against including 29 from inside the penalty area; 7 headers; 6 from crosses; 3 from free-kicks; 6 from corners; two penalties (Lens and Le Mans); 3 own goals (v Nice, Auxerre and ASSE).

25 players have been used; no player has played every minute of every match; Rozenthal has played in all 34 league encounters. 78 yellow cards: Kalou and Cisse 9, M'Bami 8, Armand 7, Pauleta and Mendy 6… 5 red cards: Cisse and Armand 2, Yepes 1.

Laurent Fournier coached PSG for 19 games this season for nine wins, four draws and six defeats (31 points or 1.63 points per game) ; Guy Lacombe has coached PSG for the last 15 games for 4 wins, eight draws and 3 defeats (20 points or 1.33 points per game). For the moment, the drawn match PSG-OM has been stripped of points.

Mr Stephane Bré will referee the match. He has already refereed the Parisians this season (PSG 3-4 Lens). He has also refereed OL this season (v Auxerre 2-0, v St-Etienne 0-0, v Bordeaux 0-0 and v Nantes in the Coupe de la Ligue 1-1).