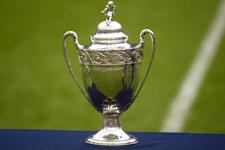 Lyon was stopped in the quarter-finals of this season's Coupe de France. It was the club's 202nd Cup match in the club's history. All the same, the record is better than that of recent campaigns...
4 matches; 8 goals scored and 3 conceded. Benzema 2 goals, Cris, Govou, Diarra, Ben Arfa, Juninho and Fred 1. 8 goals (7 from inside the penalty area) included 1 header from 75 shots at goal (39 on target, 33 from outside the area). Fred 13 shots, Juninho 12, Benzema 10, Govou 7, Malouda 6, Wiltord 4, Pedretti 3…

21 players were used by Gérard Houllier. Coupet and Cris played everyminute of all four games. Juninho and Fred also played in every single match.

5 yellow cards: Malouda 2, Juninho, Abidal, Fred.

In those four games OL twice trailed on the scoreboard.