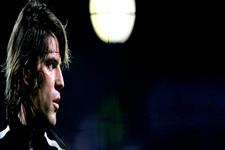 The day after the defeat to Olympique de Marseille, Grégory Coupet talks about the elimination, Sunday's match against PSG and the team's goals for the end of the season...
How have you analysed this elimination?
Like every cup match, there was a risk of elimination. We were hoping to go to the Stade de France one way or another so our dream has been shattered. Obviously we're disappointed to have bowed out in the quarter-finals, but we shouldn't over-dramatise the situation. It's not the end of the world. Others bowed out of the competition before us.

Is there an explication for all these Coupe de France eliminations of recent years?
No. If there had been a explication we would have rectified the problem long ago. The hardest thing to accept about Tuesday's match is that we lost at home. We're angry with ourselves because we've lost three games this season and they've all been at the Stade Gerland. We feel bad most of all for our supporters.

Are Lyon still suffering from the Champions League elimination to AC Milan?
The truth is that the loss to Milan is still running through our minds. It's a very painful memory, when so much hope disappears in a flash it's not easy to bounce back. As a result we were very happy to have beaten Nice. Unfortunately, we couldn't find the same reserves for the Coupe de France.

The counterattack that led to the second Marseille goal was similar to those you conceded against Toulouse and Nice... How do you explain that?
In the last two or three games we've been getting hit by these 'killer counters'. Perhaps we're paying for our desire to get forward. We don't want to get locked into the type of game where everybody is behind the ball. Our trademark attacking football has made us famous. Unfortunately in Cup football where you can be eliminated, playing that way can be dangerous. Last night we paid for it.

How do you judge your personal performance last night?
I didn't win the match, so I'm not happy with my game. It was a tough game for a goalkeeper.

Were you under more pressure?
No more than usual. Why?

Because you were up against Fabien Barthez...
I don't see things that way. It's not Fabien that scored the goals... not that I know of (laughter)!

Are you worried about the match against PSG?
Not at all. The match against Paris-SG is the chance for us to get the machine working again. It's going to be a great match in a great stadium against a team that's in very good form. We need these big games to get right back into the saddle.

What do you expect from this end of season?
I see in our team a lot of internationals that are fighting for places at the World Cup – me first in line. We can't just sit on our laurels. The elimination in the Coupe de France removes another of our competitions but it doesn't mean we don't continue to work hard at training. Now we're going to play one match a week and the recovery and the training will all link together.
We're also lucky enough to be playing the big games against PSG, Saint-Etienne, Lille and Le Mans. We'll just concentrate on these games and not listen to everything written and said left right and centre. I have the feeling that people are knocking Olympique Lyonnais for only being champions of France. We may have to content ourselves with the league title, but for me, it's the one worth the most. All the same, there's still a lot of frustration because we had a lot of goals and the team to achieve them. When we see the number of points we have at the top of Ligue 1 we have a right to say we're aiming to win the Coupe de France against teams we've beaten all season. We tried it but it didn't work.


Has this end of season just changed itself into a chase for the records now?
That could well become our new aim because after all, we're all competitors and so is the coach. We still have a lot of challenges to rise to. We try and give the absolute maximum, particularly against Saint-Etienne, because that's a match we don't want to lose.

How will you feel if you are crowned champions on Saturday without kicking a ball?
We won't be upset. I twill be a pleasure for all of us to enjoy in the hotel. It doesn't take anything away from what we've achieved. It's not our fault that we've got such a big lead. We don't need to start putting ourselves down. We deserve this success. If we are champions before we play Paris Saint-Germain then we'll play a game completely relaxed in a wonderful stadium with the desire to play good football and win at all costs, but without pressure. That chance, we've made a possibility.