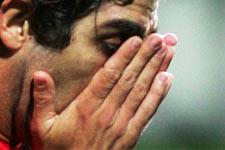 In seven days OL was bundled out of the Champions League and the Coupe de France quarter-finals. If the elimination against AC Milan felt like a great injustice, the one against Marseille was above all, a huge disappointment.
And yet, there was nothing at half-time to suggest that Les Lyonnais would go on to lose to OM. But it's hard to argue that the collective strength of the quadruple champions of France was absent, as were the performances of certain individuals, in the second 45 minutes. The mental and physical tiredness resulting from the Italian job were certainly major factors, as were the tactical quality, desire and efficiency of Les Phocéens in the second half. Maoulida's goal and the exploitation of the new passive off-side interpretation are not the entirely to blame either. It was also the 17th time this season that Lyon were asked to come from behind.

In the last seven matches (OM, Nice, AC Milan, Troyes, AC Milan, Toulouse, Bastia), Cris and Co have cruelly lacked luck in front of goal. Just seven goals scored from 132 shots! That's not a lack of efforts on goal… In the seven preceding matches (Sochaux, Metz, Ajaccio, PSV Eindhoven, Rennes, PSV Eindhoven), OL scored 20 goals from 122 shots. Sometimes Lady Luck just doesn't seem to smile on you...

The future French champions have also paid dearly for idividual and collective errors. Against Nice, Toulouse, Milan and Marseille, the grand total of six goals were conceded due directly to a lack of concentration or a 'too casual' moment…

After all, Juninho cannot be expected to save his side with free-kick week-in, week-out as he had done against PSV Eindhoven or Ajaccio. His set-pieces can't always be perfect assists as they were for Tiago against Troyes, Fred against Marseille or Diarra against Milan... Unfortunately the end hasn't lived up to the billing. Juninho, just like Malouda, will face another suspension for an accumulation of yellow cards.

Coupet has produced dozens of crucial saves since the start of the season, with a direct correlation to OL's results. But when he doesn't make them, or when he so rarely makes a mistake, Lyon almost always lose.

[IMG40458#R]Were the Lyonnais guilty of complacency on Tuesday night as some critics suggested? It's not the way the team plays. Are certain players distracted by speculation concerning their futures? It's hard to tell, even if certain propositions or uncertainties certainly warrant reflection.

There's no question of abandoning that which we have loved and that we love still. But it is infuriating. Luckily there is still this fifth league crown to be secured as soon as possible, a historical achievement and one which does not displease those that accuse the championship of lacking competition. To forget this Coupe de France elimination as quickly as possible, the perfect remedy will be to be crowned at Le Parc.