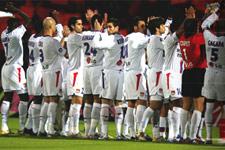 17 players were named by Gérard Houllier for the visit of Nice. Ben Arfa and Berthod are playing in CFA. Clerc, Wiltord, Diarra and Carew are being rested but will train on Saturday morning.
The Squad:
Abidal, Benzema, Cacapa, Clément, Coupet, Cris, Diatta, Fred, Govou, Juninho, Malouda, Monsoreau, Müller, Pedretti, Réveillère, Tiago, Vercoutre.

Gérard Houllier:

So, Gérard, back to the championship?
Yes. We need six more points for the championship, but we want 8 points. This match against Nice is very important. A win against Nice will also be a step in the right direction in terms of rebounding. The players want to show that they can play well.

Has the Champions League elimination been digested?
I think so. We can still pull off a historic double. Nice is an important challenge after the elimination that showed we've improved both mentally and tactically. We need to move on. It's not a big drama. The players were extraordinary in two games against AC Milan. The last three minutes aren't about to change my opinion about that. We made mistakes and we were punished. Milan, except for Dida, didn't make mistakes... The players were very disappointed, in mourning... as a coach I have to interpret the past.

Are you eyeing a number of records in the league?
The first challenge is to reach 80 points. Then there are others like finishing the entire season undefeated away, even if the last three away games are not easy. Do I think Saint-Etienne will win in Bordeaux? A win against Nice is more important that the result between Saint-Ettiene v Bordeaux.

Why have you rested certain players?
Because we have a Cup match on Tuesday. Nice are a tough team to play against. Their coach is picking their team with an eye on the Coupe de la Ligue final, and he's right to do so. The calendar changes? They're good. We have nine games left to play in a month if we go all the way in the Coupe de France. We're used to that rhythm and we have the squad to do it. The goal is a fifth consecutive league crown. Then, after Nice, it will be the Coupe de France. In that competition, we have to justify the goals we scored against Ajaccio and Bastia.