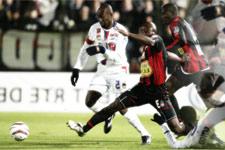 Hung over or not, there's not choice but to get back on the field and play football. Crying over the injustice of last week's Champions League elimination won't change anything now... 4 days after Milan's Rossoneri, it's time for Nice's Rouge et Noir. Live goes on, so let's get straight ba
In understanding the full extent of Lyon's disappointment last Tuesday, the club also has to acknowledge there's still plenty to play for this season. The fifth crown of French champion and several records that go with it, as well as the famous double that the club has never before obtained. From now until May 13, in six league matches and 3 Cup matches Caçapa and Co want to go all the way and pay back their fantastic supporters. A great team never loses twice in a row. After Lille and Rennes, win followed. For this first away win since 4 March, 2005, the Stade Gerland will be there witness another step towards this championship – "almost obtained".

Les Aiglons are preparing the final of the Coupe de la Ligue. They have nothing more to lose, or win, in the league. Installed safely in mid-table, they are the only team to have a goal difference of 0 after Week 33. If the 26 goals they have conceded places them amongst L1's best defences, the same number of goals scored reveals one of the world attacks of the season. Nice has only scored eight goals away from the Stade du Ray, in other words, the equal worst in the league along with Ajaccio and PSG! Roudet (2), Koné, Traoré, Bagayoko, Camara, Bellion and one Parisian own goal have been the rare sources of joy on the road. They have never scored in any of their seven away defeats this season.

The OGCN are looking for a European berth via the Coupe de la Ligue. If they win on 22 April thay will join OL, Bordeaux, Strasbourg, Monaco, PSG, Sochaux as having won all three domestic competitions. The coach Antonetti is not taking any risks. No risk of possible suspensions for the final. All three players, ust one yellow card away from a one-match ban are staying at home: Traoré, Echouafni and Varrault. In goal, the young Lloris willl continue his apprenticeship. As for Balmont, suspended from this game last season, he will return to the Stade Gerland to prove his quality once again. Finally, look out for the speed of Koné, Vahirua… The Ivorian confirmed: "apart from Barcelona, no team really impressed me, but we will have to be strong at Gerland. Like every match, we will be going out to win…"

A terrible return in the aeroplane, training without the ball, a quiet session, behind closed doors, a night in a hotel and then back on the pitch. This Saturday OL will play their 48th match of the season. Gérard Houllier will make changes at kick-off. Certainly Tiago will be back in action. Carew, Diarra, Clerc and Wiltord are rested and the question is, who will replace three of them in the starting XI? Réveillère? Pedretti? Clément? Benzema? Don't forget that Müller and Monsoreau are fresh and ready to go… "This match against Nice is important for the title, and then there is the Coupe de France game against Marseille. We have to move on from the Milan defeat." Gérard Houllier hasn't forgotten, but he's turned the page.

The best way to overcome a big disappointment is to set out after new success – that starts with a win this Saturday...