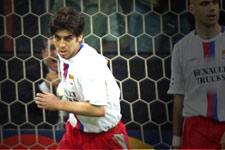 Juninho discusses the Milan-OL match, the league match versus Nice and also the Coupe de France quarter-final against Marseille next Tuesday...
Two days after the Champions League elimination, how are you feeling?

The defeat is very hard to accept. After everything we achieved in this competition, it really is very hard. It's our first defeat of the competition this season, but it eliminates us. And we played a very good match, right up until the final five minutes. We created a lot of chances but we couldn't putt hem away and we paid for it at the end. I won't change my mind about this: I believe the luck that we sometimes benefited from in the league this season deserted us during this match. The positive side of things is that today, there's no difference between us and Europe's biggest clubs. It's just this little bit of luck that out us under.

Do you think the first match was the origin of your elimination?
That goal that we failed to score at home probably was the difference. You asked before the match if it was better to play the first game at home or away. Now I can answer that I prefer to play the first leg away. If the two games were inversed we would only have lost 2-1 away, because the third goal came because we were looking for the equaliser. A score like that from the first leg is sill gettable at home.

Is the disappointment more today that last season against PSV?
The disappointment is the same. We're upset for the club, for the fans who wanted this so much. Perhaps the difference lies in how we accept the defeat. Last year we didn't play well against a team that wasn't any better than us, we created less chances. This year, we all know how good AC Milan are and we were just as good as them. My dream is the win the Champions League because it's the most important club competition in the world, but I'd prefer to be eliminated like this, that disappears in the group stage.

Are you still talking about the match with your teammates?
Of course, we talk amongst ourselves but also with the staff. Today the coach tried to comfort us and remind us that he's counting on us all and the collective that has been our strength since the start of the season. Certain are more distressed than others but I'm confident that team can bounce back this Saturday.

Saturday it's back the championship and the visit of Nice. How will you approach this match?
In our last two home matches we've had our fair share of difficulties. We're not going to let our heads drop and we'll really try and rebound in front of our fans to become the first team to win five league titles in a row. Up until now we've been spending a lot of energy to create our lead in the league. To appreciate our performance you'll see that of the eight teams in the Champions League quarter-finals are still in the running for their league, Barcelona, Juventus and us. Of those three only Barcelona went through. Physically and mentally, this battle for the league was very tiring and certainly played its part in our Champions League defeat. Physiquement et mentalement, cette course au titre use et constitue très certainement une des raisons de notre élimination de la Champions League.

OL still has the chance to beat several records this season. Is that an extra incentive?
Definately. To score 80 points in the league would be incredible. We can also perhaps win the League without ever losing away from home which will also be a first. But that will also be tough because we travel to Lille and Paris, two very good teams.

What can you tell us about the Nice match?
It's a very important match. For all our fans whop push us to win every time we play. It's also the game that will settle the league which will take the pressure off us for the trip to Paris or the visit of Marseille in the Cup next Tuesday. We want to be champions as soon as possible.

Is it an advantage to be playing at home after such a defeat?
Personally, I prefer it. Despite the fact that we've been better away from home this season, I always like playing at the Stade Gerland after a defeat.

After the Nice game, you have to back up for an equally important match with Marseille. How will you go into that game?
I twill be like a final because OM want to win the Cup as well. They also have a squad of very good individuals capable of producing something special at any moment. We'll probably see a very good match of football.

The final of the Coupe de France has been brought forward so that World Cup-bound internationals can play. What do you think about that decision?
We're only in the quarter-finals. I'm not used to thinking about a final when we've still got two games before we qualify. Of course I want to win the Coupe de France because it's a trophy that I've never won, but we mustn't forget we still have two games to win before we get to the Stade de France.