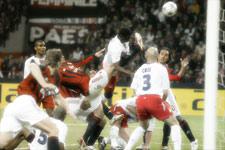 OL still hasn't won a Champions League quarter-final match (4 draws and 2 defeats); OL still hasn't reached the last four of Europe's premier club competition…
For the first time in its Champions League history, OL conceded three goals in a single away match... OL also suffered its first away defeat in 29 games… but never… never ever, was Lyon so close to qualifying for the semi-finals of a continental competition.

It was the little things that proved the difference between these to sides. Penalised by the suspensions to Juninho and Tiago, Gérard Houllier was never able to align his Golden Triangle in the centre of the park. Despite the efforts of those that replaced them and the coach's choices, it was without doubt a huge handicap. We you consider the way these suspensions were incurred, there is plenty of room for regret.

It's also infuriating to consider how all was lost in stoppage time... whether it be Tiago's foul at the Stade Gerland after a cheap turnover or two minutes from the end at San Siro… a moment's lack of concentration... another turn over and some approximate marking.

Over the course of the 190 minutes of footballing action, it's clear just how important the little things become with hindsight... Sheva for example was up against a fantastic Coupet in the first round… Greg was also excellent against in Italy, especially against 'that' shot from the Uklrainian. The one he some how managed to turn onto his right post... before the luck deserted him. Sheva... the man who managed to get seven of his eight shots on target!

[IMG40446#R]And speaking of luck, Pippo Inzaghi knew how to get on its good side, just as Vikash Dhorasoo predicted he would a few weeks ago. "Pay special attention to him... the ball almost always falls to him after it hits the woodwork…" Inzaghi, just back from injury, truly is a born goalscorer.

Over both games one certainly has to admire the efficiency of the Italian outfit. The same efficiency that abandoned Les Lyonnais. After Bastia… Toulouse… Milan AC at home… Troyes… the same thing happened again in the capital of Lombardy. 104 shots at goal for just four goals in their last five games… 4 goals scored, and just one by an attacker (Carew), is simply not enough. And when bud luck or whatever reason is added to a mistake then you end by losing... In their last five games, despite defending very well on the whole, Lyon conceded four goals, all from silly mistakes.

On Tuesday night, OL didn't deserve to lose. It was an injustice… The Italians qualified on a miracle. But that's football. How many times have Lyon come from behind this season? Olympiakos, Nantes, Ajaccio, Lens, Marseille, Nancy. 15 times out of 47. Only three have they lost after going behind... their only three defeats of the season.