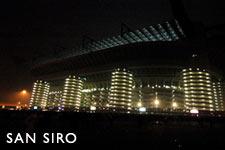 On the eve of the Champions League quarter-final return leg between Olympique Lyonnais and AC Milan, the match is already omnipresent in the French press.
In the daily sports paper L'EQUIPE, the match fills six pages. Focusing on OL's 29-match unbeaten away record, in all competitions, the paper's front page reads: Lyon, the winning mentality, before analysing the OL's beautiful trips: Rome, Brönby, Helsinki, Glasgow, Munich, Prague and, of course Bremen… Claude Chevally notes that at San Siro, OL is in their own backyard thanks to their two wins in Lombardy in 1997 and 2002.
To get the sought after victory from this trip, OL must be armed with a positive attitude to avoid reproducing the catastrophic opening 15 minutes from the first match. Speaking to Vincent Duluc, OL president Jean-Michel Aulas heralds his teams incredible human qualities before Grégory Coupet concludes: we have a lot of hope.
Like every Monday, L'EQUIPE carries a long interview with a high-profile sportsperson. On the eve of this historical match, it's Juninho who covers the page. We have the experience confirms the Brazilian maestro. The great hope of all the Lyon fans, Antonio Augusto Ribeiro Reis happily shoulders his responsibilities: My presence on the field helps certain players. If me being there allows others to play better, then all the better before adding but be careful. This isn't Juninho's match. It's not my personal showdown with AC Milan.
[IMG40425#R]The second page is dedicated entirely to Gérard Houllier. In a long analysis of his coaching methods, headlined Houllier's claw it describes the The Itinerary of a searcher and retraces the history of this meticulous, innovative, hard-working and ambitious coach.
Bernard Lions analyses the opposition's strength: their four-star attack. With Shevchenko, Gilardino, Inzaghi and Kaka, the journalist claims that AC Milan possess an ultra-performing quartet.
The paper ends with in interview with Jérôme Seydoux, OL's second shareholder and a description of the MilanLab, the scientific laboratory where the Rossoneri improve the physical and psychological performance of their players.