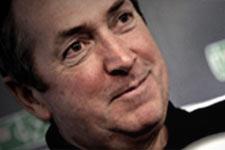 The Lyon press conference was held at 11:30 on Monday morning, with Gérard Houllier and Claudio Caçapa in attendance. Both coach and captain were very relaxed...
Mr Houllier, what chance do you give your team before this match?
One chance in two. The 0-0 was the best possible draw for us and don't forget than in the past, OL was always eliminated in the first leg. Today, that's not the case. We know that we can score goals away from home, even considering the quality of the opposition.

9,500 supporters and a real sense of hope. Does that add more pressure on your team?
It doesn't change anything. We want to bring happiness to those people, that's our job. We deserve to go to the semi-finals just as much as Milan. Up until we haven't committed a single mistake. The team to me, to be stringer this season, and I repeat, we have one chance in two of going through and we'll do everything to see that happen.

The political side of this match seems very important in Italy with the elections coming up…<br> I'm only interested in the result on the pitch. I'm not thinking about the rest, I can only control our preparation for this match.

Will Milan be different to the first match?
I hope not because that Milan was only good for the first 20 minutes before we came back into the match. For many people this is a battle between David and Goliath so don't forget who one that one…

What will change for OL?
Tiago is suspended and Juninho will be back. Obviously the latter's return is huge boost for us. But a great team is capable of getting by without one or two players. In the first match we survived without Juni, but he could yet be the difference on Tuesday. All great teams need to have decisive players. At the Stade Gerland, OL never allowed Milan's decisive players into the game.

Everyone waiting for Juninho, is that not a bit dangerous for him?
Juninho is very good when the pressure is on him, but you also have to protect these players. I think the whole team needs to respond to this challenge, not just one player. He's over 30 years old, great players are always up for the big matches and he knows that.

You are undefeated away from home in 13 months. What does that mean to you?
It means confidence and responsibility. This season, every time we've played away from home we've been solid and we've always managed to come from behind and even win on certain occasions.

Is physical freshness indispensable?
Carlo Ancelotti and I both felt the need to rest certain players before this match which will be very intense in terms of energy and physical presence. The first match was, I repeat, of a very, very high standard.

You showed too much respect to your opposition in the first 20 minutes of the opening match. Will you avoid that in the mythic San Siro?
We were star gazing for 20 minutes, but the team responded after that. I was very proud of their reaction and I reiterated that no spectator has ever scored a goal. The players will be so focused on the match that they won't even notice what's going on around them. Although we know the atmosphere will galvanise the Italians.

Gérard Houllier ended by stating: "We want to enter into history. It would be a fantastic result for everybody: the players, the club, the supporters and French football."


---
Claudio Caçapa

How is the captain feeling, and his teammates?
I'm feeling fine and my teammates are too.

What do you remember in particular from the first leg?
Obviously, our reaction in the second half when we played much better football. That's what we all need to have in our heads.

How do you explain that start to the match?
It's not the first time we've started like that. Milan started well. I hope on Tuesday we'll be present from the start.

What do you think about Inzaghi starting ahead of Gilardino?
First of all, I don't know if I'm playing. They are both difficult players to mark. We're here to stop them scoring and we'll watch their every move.

With the first leg ending 0-0, if the match is still 0-0 towards the end will the pressure mount?
There's pressure on both sides of this match. We just hope to score.