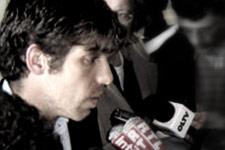 The day after their victory over Troyes, there was no time to relax for the family for the Lyon players. Les Lyonnais assembled at the Saint-Exupéry airport in the late afternoon and headed for Milan and their now famous Champions League quarter-final second leg.

Take off at 17:00… 45 minutes in the air over the snow-capped Alps… a little snack from the kitchen of Philippe Jocteur… and landing at Malpensa. Temperature: 19 degrees celsius. The wait for the luggage was longer than the flight! There was more than an ounce of understandable frustration due to this waste of valuable time. The press profited to delve for information. To beat Milan at San Siro will be tough. They put four passed Bayern Munich... but every football match is different. We want to win. It's the third time in a row we've been at the doors of the semi-final… now we want the next step. This season, we're very strong away from home. My presence on Tuesday? "The team doesn't rely on just one player. It's the collective that forms our strength. But I know I can help out certain teammates..." Juninho always finds the time to answer questions. As for Claudio Caçapa, he is much better. "I'm feeling better than on Saturday. The fever has gone. I hope we'll have a big match and qualify."
One hour after touching down on Italian soil, the Lyon squad headed for their various buses. It took another hour to get to the hotels – the traffic cannot be described as 'fluid'. Everyone took in the countryside with its red brick buildings, the huge avenues and the immense [IMG40399#R]Castello di Sforza, the former home of the Duke of Milan… The orange trams take pride of place. It's almost 20:00 when the bags touch down in the hotel foyer. Night falls upon Milan... Tomorrow there is no surprise on the menu: press conference at the players' hotel and then training at San Siro in the late afternoon.
For the Italians, Carlo Ancelotti faces the media at 14:30 at Milanello, the Milan training complex.