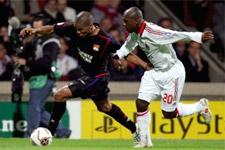 Check out what the Rossoneri had to say after the Champions League quarter-final first leg.
Adriano GALLIANI, managing director of AC Milan
We createds a number of chances in the opening 15-20 minutes. After the match became more even. We knew that it wasn't going to be very difficult. The 0-0 score line is a good result, even if I hoped we'd score a goal. Now we've got to win at the San Siro in six days time and that's what we'll be trying to do. The draw this year and seen us play reigning champions, currently first in their leagues. The return will be a sell out and our supporters will be a big help.

Filippo INZAGHI, AC Milan forward
This is not a bad result. Next week we'll be playing at home, in front of our fans and we'll be trying not to concede a single goal. At San Siro we'll have to be very focused. But before then there's the match against Lecce which is crucial for our season. I remember the 0-0 against Ajax in 2003 in Amsterdam and we qualified at home in the final minute. If it goes the same way against Lyon, we'll be very satisfied.

Carlo ANCELOTTI, AC Milan coach
It was a very tight match and we played like Milan is used to playing. The first half was more spectacular, livelier. In the second half it was OL that dictated play which was hardly a big surprise because we know they are a very good team. It's a good result, but it doesn't mean we have nothing to worry about in the return. We'll have the advantage of playing in our own stadium, with our supporters. We produced more quality in attack than our opponents until our side began to tire. Also, the rhythm slowed and we had fewer chances to score. We gave a lot in the first half so it was natural that we slow up a little in the second period.

KAKA, AC Milan midfielder
It's not a bad result to draw with OL at the Stade Gerland. With our fans at San Siro for the return leg we'll have more chances. We were tired in the second half. Tuesday will be very tough... Lyon have warned us.

Clarence Seedorf, AC Milan midfielder
We didn't score in the opening 20 minutes but we were the better side. We carved outr three clear chances, and then they grew in confidence… We'll score the goal we're missing when we get to San Siro. It will be important to start the game in the same way we did yesterday. We'll also suffer less. I'm very confident. We didn't concede a goal away and that's a very positive thing. We showed we were better, but we have remain humble and focused. If they concede an early goal they will really struggle.

Sell out
The match San Siro will almost certainly be a sell-out. On Tuesday, 71,719 tickets had already been sold.