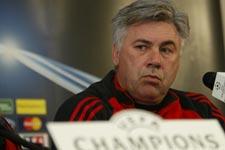 Carlo Ancelotti and Kaka faced the press on the eve of Wednesday's match.
Carlo Ancelotti

In what condition is your team on the eve of the match?
We're good mentally and physically as our last match against Fiorentina would suggest. We hope to continue in this vein tomorrow night.
It's a very important Champions League match and that constitutes one of our goals for the season. So the team has been prepared for this match.

Juninho is suspended, will that change your tactics?
Juninho is, of course, a very important player, but his absence will not greatly affect the quality of the play because both sides have several excellent players.

Do you think he'll be replaced by Pedretti, or by Govou in a more offensive role?
It doesn't interest me. Whatever happens, he will be replaced by a quality player because this team only has great players.

Has Costacurta recovered from the tiredness experienced last weekend?
Yes, and I even think he'll play.

What about Maldini? Maldini is going well, but I don't think he'll start the match.

Do you think either of these two sides is favourite?
No. Both teams play beautiful football based on attack. Perhaps we have a slight advantage because we are playing the second leg at home.

Both teams play offensive football. Do you think we'll see a lot of goals?
It's completely true that the two teams have enormous attacking potential but both also have very good defenders. I personally don't think there will be any goals.

Do you think the fact that Gilardino still hasn't scored in the Champions League could become an obsession for him?
Not at all. If I thought that I wouldn't play him. He is a player that has a huge influence on the play and the good working of this team. I don't look only at the number of goals he scores.


---

Kaka

[IMG40380#R]You have a very good goalscoring record in the Serie A and also in the Champions League. Do you see that continuing tomorrow night?
I think it's possible. All the same, it's not my principal objective. If I make the last pass for a teammate who scores then I'll be equally happy.

What do you think of OL's four Brazilians?
I know them well from the national team, except Claudio Caçapa who has had a lot of injuries.
Juninho is an essential part of the national team. Everyone knows his ability to hit a ball. Fred is still very young but he has a huge potential and will soon be one of the best attackers in the world. Cris is a very good defender who always plays in big teams. As for Claudio Caçapa, I don't know him as well, but he's the captain of this team which explains his importance as a player.

What are Lyon's weaknesses in your opinion?
I'm not going to tell you, but if I was to name a sector, I'd say the defence.

What relationship do you have with Andriy Shevchenko?
He has always helped me since my arrival at Milan. Even off the field we're friends. We're really very good friends.