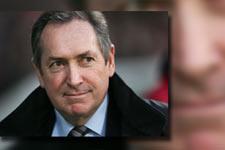 Lyon chose to express themselves late in the morning. Gérard Houllier and Eric Abidal spoke to the media in the traditional pre-match press conference.Gérard Houllier:


Gérard Houllier:

Gérard, how is your team?
The troops are feeling fresh... it rained all night. But seriously, 21 players headed into camp: Abidal, Ben Arfa, Benzema, Cacapa, Carew, Clement, Clerc, Coupet, Cris, Diarra, Diatta, Fred, Govou, Malouda, Monsoreau, Müller, Pedretti, Réveillère, Tiago, Vercoutre, Wiltord. We know we're up against a very strong team, a great club. I don't know if we're an outsider but we'll give it our best shot. Each team, has its chance, an equal chance, even if we have lot of respect for that team.

The first match is always the most important for you?
Of course. It's very rare to turn a situation around, even if Deportivo did it against Milan two season ago. In principle, the first match sets you up, keeps you options open or ruins you. In nine times out of ten, it decides what will happen in the second game.

Do the two sides still hold any secrets for the other?
No. I don't think that's been the case in the last ten years. The teams know everything, they know each other perfectly. Individual talent and teamwork take over. You have to remain focused on the play. They won't change their tactics. I think this game is all about patience and tactics. They'll play an important role but there could be two or three moments of magic from each team.

What would be the ideal result on Wednesday?
I don't have preconceptions in my head. Lets say a win without conceding a goal.

The absence of Juninho ?
When your best player is missing it's a handicap that will be compensated by the introduction of a player that is desperate to have a good game and by the team that works harder. His absence could be compared to that of Sheva or Kaka to the Milan side. You have to accept it if you want to win this competition.

Will the home crowd buzz lift you?
The players are aware of the hype surrounding this match. But they have to try and stay calm and maintain the confidence we've had since the start of the season. The match won't be won in the streets but onthe field.


---

[IMG40377#R]Eric Abidal :

Is this an exciting match?
Obviously. It's very important for the players and the club. This season we have some big objectives and they come after two good games against Milan.

Have you prepared this match differently compared to that against PSV last season?
No, I don't think so. Overall, the spirit within the camp is the same. We're staying focused on our subject.

Do you measure your personal progression and what form do you think you're in?
Of course. OL is a great club. I was progressing but Lyon has helped me a lot. I've missed five months of competition. All the same I feel good and it's always a pleasure to play in such a match. After that, you'll have to ask the coach what he thinks…

Opposite you, you have some impressive strikers, does that change the way you play?
First of all, this type of game is won by concentration. Top level football has no mercy for even a tiny mistake. We have to play our game and to our strengths. Defensively, it's a collective thing. We defend in numbers, don't forget.

Will elimination be a disappointment?
I'm not even thinking about it because we're still in three competitions and we know we can go all the way in all three.