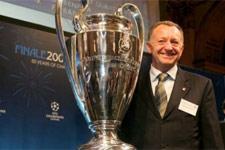 Just three days before the Champions League quarter-final against AC Milan, Olympique Lyonnais' president, Jean-Michel Aulas, shared his impressions on the game and also the role of the supporters.
In three days, OL take on Milan… How do you see the match?
Obviously it's an extremely important match, a match that we're taking very seriously because we want to get into the semis. It's the match we've been waiting for in so far as we've been in the quarter-finals for the last few years without reaching the next stage.
Milan are one of Europe's biggest four team in terms of history and fame. The club directors are of all of the highest order and we have very good relations with them. Silvio Berlusconi has succeeded in politics, sport, industry and economy, something which is very difficult to do in France. I take my hat of to this club director who succeeds at everything.

How do approach this double header, knowing that the second le gis in Italy?
We've already managed to qualify in Italy when the second match was away, against Lazio. We also win our fair share of matches away from home. We certainly shouldn't say that all is lost before we even begin. Milan will be favourites but certain references, like our two wins at the San Siro suggest we won't be easy beats.

We have the impression that OL are more than just an outsider? Is that how you see it?
In Italy we're not an outsider. We're the small team that's getting bigger but that just allows them to highlight the difference between the very big teams and the small ones that want to be big. It's going to be even more difficult because OL is being watched now. This tie will be a real test.

We know that the fans are going to play an important role. Last night we saw the dress rehearsal. What did you think?
The supporters are one of the parts of this growing club. They have not only learned to 'turn on the show' in their stands, but they also stand behind their team when it's losing like against Rennes. It's getting stronger. I've seen the supporters growing with Lyon and pull the team higher. OL has France's best fans. We're proud of what they represent.
On Wednesday, they will be incredible, and again in the San Siro where there will be plenty of them. That will also show how we're growing.