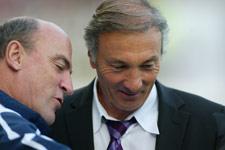 Check out all the reactions after the draw between Olympique Lyonnais and the Téfécé.
Patrice Bergues: We dominated the match from start to finish but we could turn it into goals. We lacked a bit of efficiency, particularly in the second half. In the first half we were a little too monotone. But in the second half we really tried everything. You have to congratulate Toulouse and especially their goalkeeper who made some spectacular saves. We needed a bit more speed and aggressiveness in front of goal.
What was happening with Juninho's free-kicks was infuriating because every time the wall encroached about two metres. That's exactly what happened for their goal.
Tonight was frustrating and disappointing but as of tomorrow it will be forgotten.
We still need another 11 points to be crowned champions and we've got to go on and get them now.

Eric Mombaerts: This point does us the world of good. We came here trying to avoid being the obvious victims and we tried to play well and defend well. In the second half we sat a little too deep. The equaliser was certainly deserved.
I even feared for a while there that the point was going to get away. You have to admit that our 'keeper pulled off some great saves. His save from Juninho's free-kick was exceptional, without a doubt that save earned us our point.
During the week we prepared this match in minute detail. We tried to predict everything and we were very well prepared. This point is the recompense for a week's work.
We were more inspired by the performance of Bordeaux, who gave away very few chances, than those of Lille or Rennes.
All the same, we'll be Lyon's first supporters in the Champions League. Firstly because OL is France's representative, but also because OL are capable of eliminating Milan and finally, because Gérard Houllier is my friend. I'd love to see hi lift the Cup with the big ears.

Jean-Michel Aulas: We shot a lot at goal. We ust have to accept it. Toulouse were very well organised. We attacked and left some space and Toulouse hit us on the counter attack.
Like I said to the players, of our three home games, there was only one which they could afford not to win and it was tonight's. We still on top of the standings with a comfortable lead.
Our main goal is to win a fifth title and a victory tonight would have been another step in the right direction. So of course it's a shame to drop points along the way, but you have to acknowledge that Toulouse defended very well and that we didn't succeed in scoring.
When we look at tonight's match, we see ust how bi gour task to win on Wednesday is. On Wednesday we have to do everything it takes to take a considerable lead into the return leg. We have to approach this match the same way we did that against Real Madrid because there as well we had to win by a big margin.

Gérard Houllier: I'm disappointed by the result but not the performance. I'm disappointed for the players, for the supporters - who were fantastic and pushed the players the whole way. There are times when you win games with a bit of luck - like in Toulouse when we had that bit of luck. Tonight we lacked success in front of goal. But in the second half, we created a lot.
The players weren't already thinking about Milan. If they were Cris and Diarra wouldn't have showed up up front.
Now however, I'm going to concentrate on the Milan game.

Check out all the reactions on video on OLWEBPremium.