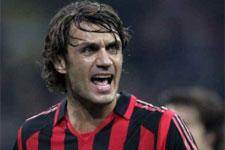 This Saturday, at 20:30 a proud and confident AC Milan, fresh from last weekend 4-0 win over Udinese, hosts Fiorentina in one of the matches of the round in Week 31 (at the same time Juventus host Roma)...
While the plaudits continue to rain down on the football played by Lyon, Serginho is no less complimentary of the Rossoneri's game. "We're actually playing very well. It took us a little while to find our best form, but now we're there," said the Milan left-back.
Just as Vikash Dhorasoo said recently: "Milan play the best football in Italy" – and he's not the only one to say it. However, it's the defence that will be un srutiny this Saturday against Fiorentina and their incredible goalscorer, Luca Toni. Dida and his defenders will have face a stern test. The Italy striker boasts some incredible statistics this season: 24 goals in just 30 Serie A games – nearly half his side's 51 goals and almost certain to be crowned Capocannoniere. On Thursday he gave his opinion on the match: Milan are a team that play very good football but above all, we have to stop Pirlo because he really is world class," (www.acmilan.com).

4th in the Serie A standings, the team coached by Cesare Prandelli are currently seven points behind Milan and two ahead of AS Roma. Fiorentina haven't lost in the league since 19 February and a 2-1 defeat to Lazio. The numbers also back them up. In their last six trips to the San Siro their record stands at three wins, one draw and two defeats. Of course those figures have to be taken with a grain of salt, because the last two meetings ended in favour of the Rossoneri: 5-2 in 2001 (Shevchenko 2,Inzaghi 1) and then 6-0 in 2004 (Shevchenko 2, Seedorf 2, Crespo 2.).

On Saturday, the Florence team will benefit from the absence of Dutch defender Jaap Stam, out with a calf injury. All the same, the big news is the return of Milan's emblematic captain Paolo Maldini. The left-back hasn't played since the Champions League match against Schalke 04 on 6 December 2005.

Trailing Juventus by ten points in the standings 'i Milanese' are looking to secure place and direct qualification for next season's Champions League. With eight games left in Italy, they hold a two point lead over cross-town rivals Inter Milan.