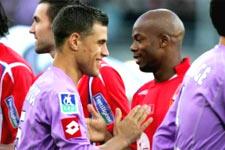 Bryan, how are you preparing for this trip?

I'm preparing the same as for any other game even if there are a few more friends calling up to get tickets or wind me up.
What do you think of Lyon's play?
It's close to perfection. At the moment they're stringing together the wins and scoring goals out of this world. Now is probably the worst time to play them.

The fact that they are playing AC Milan just three days later, is that not a possible window of opportunity for you?
I don't think so. In fact that probably means they'll play their first-choice side tp prepare for the Champions League. I don't think they'll go in easy because that's often how you end up getting injured.

What does it take to get a result off Lyon?
You have to play the perfect match and try and not let them play. It's the only way to beat them, or even hope to get a draw.

You know them so well. Can you reveal to us what might be considered a weakness?
I don't think they have any weaknesses. The number of injuries they had a thte back could have been a handicap but that all seems in order now.

Do you think this is the strongest Olympique Lyonnais of recent years?
I think yes if you look at what they're achieving at the moment. All the same, they have to get passed this quarter-final if they want to improve on recent seasons. I hope for them that they do.

Do you think the championship is over?
Absolutely. There's no doubt about it. They will be champions for the fifth time in a row and I'm very happy for them.

On a personal level, how is your season going with the Téfécé?
For the moment it's pretty tough. I'm not playing as well as I would have liked to. When you leave a club with which you played for ten years, the first year at a new club is never easy. I've tried to get used to it but it hasn't always come easily.