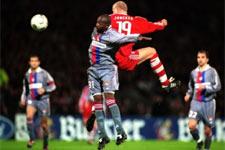 Laurent Batlles and Claudio Caçapa began their Ligue 1 careers against OL and Toulouse. Take a look down memory lane...
Toulouse's Laurent Batlles made his Ligue 1 debut during OL-Toulouse back on 2 April, 1994 - Lyon won 1-0. Since then, he has played 274 Ligue 1 matches, scoring 24 goals. He has played for five different teams: Toulouse, Bordeaux, Rennes, Bastia and Marseille. He also played in L2 with Toulouse between 1994 and 1997, 93 matches, 7 goals.

Lyon's Claudio Cacapa played his first Ligue 1 match on 17 February 2001 at Toulouse. Les Lyonnais came away with a 1-1 draw. The Brazilian has now played 114 games in Ligue 1, scoring 7 goals.