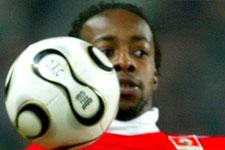 In the wake of his return to competition in the last 16 of the Coupe de France against Bastia Sidney Govou talks about last night's game and the upcoming clashes…
Sidney, what are you first impressions after last night's match?
It was a difficult start to the game because we weren't able to accelerate the pace of the game. Then we managed to produce our own game and Juni pulled out that beautiful shot which sees us qualify.

There was a lot of talk about the returns of Anthony Réveillère and Claudio Caçapa, but this match also represented a return to competition for you. How did your first match go since recovering from injury?
Really well. I'd already played in a reserve game last week. I was a bit worried I wouldn't be able to handle the pace right to the end but it went well. Training is crucial, but nothing replaces competition and the rhythm of a match.
At the start I had a bit of trouble repeating the sprints but then everything came back and I grew in confidence.
We know that to reach our goals, we need everybody operational.

This year, the quality of the Coupe de France seems a bit higher. Do you agree?
Absolutely. In looking at the names of the team already qualified you can see it's not going to be easy. Our main wish is to play the next round at home. For that we have every confidence in Bernard (Lacombe) and that he'll get the right draw.

Can you talk to us a bit about Saturday's match against Toulouse?
We're preparing for this match in ideal conditions because we have an 11-point lead at the top. For a while now we haven't been too worried with what's going on behind us. We've been concentrating on our own programme. We know we still have to win four more games to crowned champions. So we have to start against Toulouse this Saturday.

After Toulouse you're back into the Champions League. Is it not a bit dangerous playing in three competitions?
No. We've got a big squad which allows us to have several goals. We can replace almost every position on the field without losing anything.
Now we're playing every three days. It's tough, but it means that we're getting towards the end and that the trophies are within our grasp. With the number of players in our squad, playing so many matches means you can keep everyone happy with some playing time.

What's you opinion of squad rotation?
We, the attackers rotate more than the midfield or the defence but we've known that since the start of the season. We play for a big club and any player that didn't accept the turnover wouldn't fit in here.
All the same, you don't want to be away too long or else somebody will jump in and score. Just look at Sylvain (Wiltord) (laughs). But all jokes aside, I'm delighted for him and the whole team.
I've got confidence in myself. I know perfectly well that I'm capable of reproducing the kind of matches I had before I was injured. It's the coach who will decide who starts, but it's up to me to make sure I'm making it a difficult decision for him. The competition gives me a real boost and makes me try and be better.