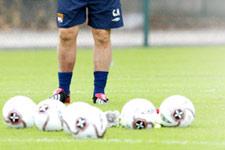 16 players were named for the visit of Bastia. Wiltord, Carew, Clerc, Abidal and Diarra will train on Tuesday morning but have not been called up.
The Squad:

Ben Arfa, Benzema, Cacapa, Clément, Coupet, Cris, Diatta, Fred, Govou, Juninho, Malouda, Müller, Pedretti, Réveillère, Tiago, Vercoutre.

Gérard Houllier:

Gérard, a word on this squad?
"I can tell you that Réveillère and Cacapa will start the match. Cacapa will play with Cris in the centre of the defence. As from there, I let you work it out. The five players I've given the night off? They've played in every match recently. I place a lot of importance in freshness. My choices begin with that parameter and not with which competition we're playing in."

Is a Cup match different to a league game?
"Of course it's different. We have to take this game very seriously against a side that's leading the Ligue 2. That means they have the same worth as a side in the second half of the Ligue 1 table, perhaps even a bit more considering they're playing us and will be extra motivated to pull off an upset. My squad is well aware of that. Joël also reminded everyone of the elimination against Châteauroux and we also spoke of our elimination at the hands of Denizlispor. I'll send a call out to the fans that they come out in numbers for the match because their support is indispensable. The risk in this type of match is to not play to our full potential, but we have a responsibility to do so. Our goal is to be there, at the Stade de France on May 20. This competition is one of our goals. We've watched Bastia – we've done our homework, we haven't let anything to chance. Top level sport is a matter of every little detail."

How is your squad going?

"Since the Ajaccio match we've been improving with each outing. I hope that continues on Tuesday. We have to do better each game. The secret? Play to win. And of course there's plenty of preparation behind the scenes. The players have to understand that they need to live like monks until the end of the season. I also think that everything is built on the defence. That's where all the attacks come from and it concerns the whole team. One of the things that has changed in football is that the defenders have become very good footballers. Finally I'd like to clarify my comment about '70%' after the Sochaux game. I wanted to say that certain players could still improve by up to 30% and that they didn't necessarily know it. They can still improve and that's a good thing for the club. My job is to make them aware of it. At no point did I mean to suggest that we only played at 70% of our current abilities."

The Bastia Squad:

Penneteau, Leca - Sauget, Maire, Laville, Lorenzi, Haas, Gomez, Matingou, Diane, Ghisolfi, Barthelemy, André, Meslin, Ben Saada and Conombo.