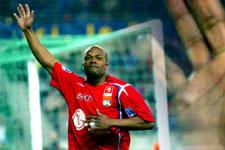 Sylvain Wiltord scored his first double in a Lyon shirt against Sochaux on Saturday. He scored his 11th league goal of the season to equal his entire tally from last year (3 in the league, 2 in the Coupe de France and 6 in the Champions League).
10 of his 11 goals have been scored away from home – at the Stade Gerland he scored against Ajaccio. 7 right-footed goals, 1 left and 3 headers; 3 from outside the penalty box and 8 from within; 3 goals have come from crosses, 1 from a through-ball, 2 from solo runs and one from a free-kick… He has scored 10 of his 11 goals after starting the match and only once off the bench (against Bordeaux). 29 league appearances – 21 in the starting XI.

What is remarkable about 'Nino' is his efficiency: His 11 goals have come from just 43 shots, or less than four shots for every goal! He has got 28 of his shots on target. He has also delivered 5 assists to 5 different players: Tiago, Fred, Diarra, Benzema and Malouda. He earned a penalty against Rennes. He hasn't received a single booking – he didn't last season either – and given away a single free-kick since August – in the last 18 matches. He has only given away 26 free-kicks in 39 games!

In the Champions League, he started 3 of the 8 matches that he took part in… 2 goals at the Stade Gerland from inside the penalty area and one assist. He earned one yellow card in Eindhoven. 2 goals from 5 shots (2 on target). He has played two Coupe de France matches (once as a starter) without scoring from his two shots. He did not play in either the Trophée des Champions nor the Coupe de la Ligue.

[IMG40327#R]In total, he has scored 13 goals from 50 shots in 39 matches this season. Against Sochaux he moved to 82 Ligue 1 goals in 250 matches. In scoring 11 goals he has already equalled his 1997-98 tally with Rennes. He scored 13 in 1999-2000 with Bordeaux; 15 in 1995-96 with Rennes and 22 in 1998-99 with Bordeaux. In his time in England he never scored more than ten goams in a season for a total of 32.

Sylvain will turn 32 next May. These figure show, if there was ever a need to prove it, that the former Gunner is a player of immense talent and who hasn't visited the treatment room this season (unlike the last campaign where he played a total of 35 games). To come back to the 4-0 win against Sochaux... he never stopped running, like always, participating in each attack as well as in the winning back of the ball… hard to forget the superb control and shot turned away by the hosts 'keeper from Pedretti's pass... the quality of his first goal... his desire to stay on the field another ten minutes… his controls, his positioning… losing his marker… football looks so easy!