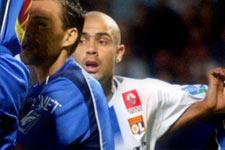 The last time that Lyon were the home team in a Coupe de France match was back in the 2002 round of 32 against second division Châteauroux. At a frozen and deserted Stade Gerland with a terrible playing surface, Lyon were eliminated.
That evening, Les Lyonnais played terribly. Coupet and Juninho, most notably, were both present that sad night. Since their return to the top flight, it was their fourth home elimination in the Cup: in 1995 v Angers (3-1 in the rd. of 32),in 1996 v Auxerre (1-0 in the rd. of 64) and in 2000 v Monaco 3-1 (in the quarter-finals). Since 2002 Lyon has always been eliminated away. All this just underlines that the 'current Lyon' has rarely seen the Coupe de France at the Stade Gerland and that their record is far from flattering.

It's time that it changed! At least Juninho and Co have announced their intentions of lifting the Cup come 20 May at the Stade de France. "There are three more games until the final…" They were the words following Saturday's demonstration at Sochaux, without, of course, dismissing the Corsican side. "It's never easy against Ligue 2 opposition... it's going to be very hard…" Cris, like his mates, is never prepared to take a match lightly. One of this Lyon side's biggest strengths is their ability to focus for 90 minutes (or more) on the task at hand. The 11 point lead over Bordeaux in the league, just eight matches from the end makes it even easier to concentrate on the Cup.

Bastia? Back in Ligue 2 this year after 11 seasons in the top flight, the Corsicans are in the the leading trio fighting for promotion back to L1, but nothing is sure yet. Fighting in Ligue 2 isn't always easy but Bastia can count on players such us Laville, Née, Jau, André, Camadini, Penneteau, Meslin… all solid players who have experienced the next level. On Tuesday night, Jau (plantar arch), Camadini (fractured toe) and Marester are all missing…Malik Cherrad, will be staying behind due to suspension, as will Née. So what spirit will the islanders make this trip? It would be surprising if they are going all out to win the Coupe de France. Promotion is right at the front of their minds and, having lost to Lorient last time out, they play Istres in a must win game this Friday. So… coach Bernard Casoni, suspended from the bench, will obviously make some changes with the returns of Gomez and Sauget. Between pulling off a huge upset and logically bowing out of the competition, Les Bastiais certainly have nothing to lose. Gerland will also love to welcome back one its former heros, Florent Laville, as well as former Lyon 'keeper Gomez.

On the question of changes, the Olympian supporters can well ask Gérard Houllier after the tactician has made just one change in the last three games (Pedretti replaced Tiago v Sochaux). "Yes. Cacapa and Réveillère will start... Wiltord, Carew, Clerc, Abidal and Diarra are not in the squad. When I make my choices I look at freshness, not at which competition we're playin in." Both defenders will be out to prove they are back to their best having played so little football since the winter break (30 minutes for Réveillère and 360 for Captain Claudio. Up front, Govou and Fred will start. Will Diatta play at left-back like he did against Sochaux? Yes, there certainly will be changes for this match.

"We've done our homework. We've watched Bastia play several times. In this type of match you have to be prepared. We have to be careful because Bastia will be out to cause an upset." Gérard Houllier reminded everyone that the goal is to be there, at the Stade de France on 20 May. After playing the GF38 and Ajaccio, it's more Corsican opposition, but this time at home... it doesn't seem too much to ask.