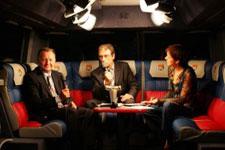 Reactions after Olympique Lyonnais' 4-0 victory over Sochaux.
Benoît Pedretti: We really enjoyed that. We had a really big match this evening. We were able to score when we needed to. It was really fun.
We really showed we are a great team with real desire. Even at 4-0 the attackers continued to defend. I hope we're going to continue like this.
Tonight we really were good, with a skill level well above ordinary.
We have another important match on Tuesday and we absolutely have to win. We have a big week and we have to remain focused. The essential thing is to remain concentrated on ourselves to win everything right 'til the end.
Tonight was brilliant for me, to play in front of my family and friends and score...

Jean-Michel Aulas: Benoît did himself justice. He's a very good player and the spirit he brings to the team is priceless. He was able to put everything right again thanks to his personality of a calm leader.
This win was a big step towards the title. But we mustn't go crazy all the same. Tonight Bordeaux left two points at Troyes. We'll be going there soon and perhaps that's where the title will be decided because if we win and Bordeaux slip up again it could be the moment we've been waiting for. We have to stay calm because we're getting very close to a fifth title. We're like a tennis player that's about to play the final crucial points. You have to remain strong. We're actually growing stronger. We have to keep reminding ourselves of Lille and Rennes to avoid another terrible disappointment.
This season we've earned more points away than at home. That's the sign of a great team, mignificently coached by Gérard (Houllier) and Patrice (Bergues), who are doing an amazing job like all the staff. They've done wonders in a sporting sense, but also on a human level because the team gets along so well.
Concerning Clerc and Wiltord who are almost out of contract, negotiations have begun. They are going well. I hope that those two players are with us next year. We'll do our best to see that they remain because they deserve it. I had a long chat with François and his agent on Monday. He said we shouldn't have waited so long to start negotiations instead of waiting for this moment when we've seen his qualities. That's football. The chance has helped forge his destiny. He knows his future is here with Lyon, winning trophies. He was very good again tonight. As for Nino, for me, he is the exemplary player. I think since he's arrived in Lyon, he's even become more popular. He has grown into what he is today – a great lad, nice and intelligent. And once again, tonight he was exceptional.

Florent Malouda: The best thing about tonight is taking the two points on Bordeaux. We stayed focused and it paid off. Apart from the opening minutes we were never in any danger. We were able to play our game and accelerate the game when we needed to. Every match for us is like a final, we need to win. Bordeaux have the tough job of trying to catch us.
Personally, I'm getting my attacking form back, which I'd lost a little with my injury and playing at left-back. I hope that I can keep this level up in the upcoming games.
On Tuesday we are playing in the Coupe de France which is another of our objectives. I hope we can show the same spirit as we did tonight.

François Clerc: That's the third time we've won 4-0. It's even better because Bordeaux drew. As a result, it's a great win to keep in form, but also for the championship.
I'm currently negotiating my contract with the president. It's heading on the right direction. We saw each other not long ago and it went well. I don't think there'll be any problem. Journalists are spreading my name about, but for the moment I'm very happy at Lyon. I get along well with the players, the coach and the public, so I'm really very happy.

Grégory Coupet: The whole team played like we know it can. It's good not to have conceded a goal. We certainly deserved to take the points at a ground where most teams struggle.
This week, everyone's been talking about Milan but there's still Bastia and Toulouse. Tonight was a great win because everyone was talking about everything, other than Sochaux.
To send Lyon to Paris for the Coupe de France (French Cup) would be fabulous. All the same, we still have to win three home games. I would say the match against Milan will be the easiest because the motivation will be there all by itself. The match against Toulouse is going to be really tough. We always stay focused and respect our opposition because we know they can always fight back. The league will only be over once we've been crowned champions.
This season we've known how to mix up a short game with a long game. There are crosses and lots of movement. It's good to watch.

Gérard Houllier: What impressed me this evening was how the whole team defended. To play away from home and not give your opponents a single chance to score... that means we were very rigorous and watchful.
January and February were a very diffcult couple of months because we lost a lot of players and we had a lot of football matches. Now we mustn't get ahead of ourselves. We need to win at least four more matches to be crowned champions because with 80 points we'll win it. That's what we want. Once again I pay credit to the players who are continuing to improve and have a great attitude.
Now we have to think about Bastia because there are three games left to get to the Stade de France.