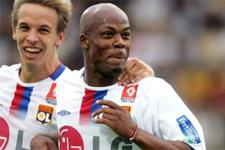 After 30 rounds of Ligue 1, 29 for OL, the club has the best attack in the league – an attack that has scored 26 of 51 goals away from home. They lead the away attack records, but not at home, where Auxere and Rennes are the top two.
On the road, Wiltord has scored eight of his nine goals; Juninho four out of seven; Fred three out of eight; Carew three out of six; Govou two our of four; Malouda one out of four… 26 goals from nine different scorers. Only twice this season have Gérard Houllier's players failed to find the back of the net: away to St-Etienne and at home to Bordeaux. On Saturday night, they will be up against (Teddy Richert) who hasn't conceded a goal on home soil in 348 minutes and the visit of Nice…

Away, Les Lyonnais boast the best defence in Ligue 1 having conceded seven of their 22 goals. They are level with Bordeaux who also count seven out of a total of 15. Seven trips have seen clean-sheets: Auxerre, Nantes, ASSE, Metz, Strasbourg, Toulouse and Nancy. Seven trips have resulted in a single goal getting past Coupet: Lens, Marseille, Bordeaux, Rennes, Ajaccio, Ajaccio and Le Mans. Lyon have never conceded more than one goal on the road (1 in Madrid, 1 at Olympiakos, 1 against Auxerre in the Trophée des Champions, 1 at Nantes in the Coupe de la Ligue and 1 v Ajaccio in the Coupe de France). The last time Lyon conceded more than one goal away, in any competition, was on 9 April, 2005 v Nantes (2-2). At home, however, Cris and Co have the 16th best defence!

Les Lyonnais have been behind in the scoreboard14 times in 41 official matches, including nine times away. The results? 5 wins, 7 draws and just 2 defeats (both at home). 25 times Lyon have opened the scoring... for 24 wins and a draw (Auxerre)! 6 times (Auxerre in the Trophée des Champions, Rosenborg and Olympiakos in the Champions League, Le Mans, Ajaccio and Auxerre in the league) out of those 25, they conceded equalisers before recording five wins.