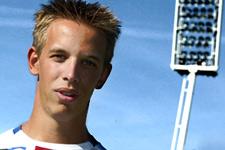 Just two days for the match against Sochaux, Benoît Pedretti talks about his imminent return to the Stade Bonal, his views on the club and also the big dates looming in Lyon's calendar…
We imagine this return to the Stade Bonal is a special moment for you?
Yes, of course. It's always a little bit special. It's a pleasure for me to return and I know almost everyone that works there. Even though I played there last season, I think it's going to be the same every time I play them. But despite the personal importance, I won't forget that it's just a football match that we want to win.

Tell us about the Stade Bonal. It's a place you must know by heart…
Yeah, it's a nice stadium. It's not enormous, but it's big enough for a club like Sochaux. It's full more often than not and it's got a great atmosphere. It's good to get your bearings because it's not overwhelming.

Do you know what sort of reception is waiting for you?
I have no idea but if the example of Peguy Luyindula is anything to go by I'm hopeful. Last season he was whistled and jeered at the Stade Gerland when he was with OM and this year he was applauded. Last year my return to the Bonal was mitigated and I hope it will be better this time, because I'm not wearing the colours of Marseille.

Is it hard for you to see Sochaux struggling in the league?
I don't know if they're struggling. They've had two very distinct periods. At first they were obliged to build a team with a lot of new players and that takes time to integrate the newcomers. It now appears to be going a lot better with wins against Auxerre and Nancy, which are two good teams. Then they couldn't play against Bordeaux, which probably caused their bad result against Monaco. That was just a slip up and I'm sure they'll be ready on Saturday.

Sochaux saw a lot of players leave last summer, is that just something that club has to live with?
Yes, but everybody knows it. Sochaux's survival depends on their capacity to produce good young players. You just have to accept it and above all, take responsibility for it. The club doesn't have the financial means to hold on to its best elements. The club puts more into its youth centre. When you have a good generation of players like Meriem, Diouf, Pierrot (Frau), Sylvain (Monsoreau), it's easier. With a bad lot of young players you get into difficulties. It's the same for all the clubs that realy on the youth system, such as Auxerre who always seem to emerge.

Are you proud to have come from the Sochaux youth centre?
Absolutely. Sochaux has a youth centre on the same standing as Auxerre, Nantes or Lyon. It's a very successful club at youth level across the nation. I'm also proud because that's where I come from. When I was very young I was going to the Stade Bonal, I was a fan of that team. To play in front of my family and friends was a great source of happiness for me.

Do you still follow their results?
Yes, and I'm often on the phone. There aren't many players left from when I was there, but I'm often on the phone to the goalkeeping coach who keeps me informed of what's going on.

[IMG40041#R] If you had to choose one memory of Sochaux, what would it be?
Winning the Coupe de la Ligue. A year earlier we were crushed by Monaco in the final and to make two finals in a row was already pretty good. It was the end of four years' work. Promotion to Ligue 1 was also a big moment. For a lot of us, winning the second division was our first trophy and special moment of which we are very proud.
There are also some very tough memories like the final loss to Monaco or the European elimination at the hands of Inter Milan after two draws (2-2 at the Bonal and 0-0 at the San Siro).

OL is entering into a period where they'll be playing almost three games every week. Do you think this is what the season has been building towards?
Exactly. We'll have two very important weeks coming up in the league where we have to maintain our lead and our points' gap over Bordeaux. The Coupe de France (French Cup) follows with a match against Bastia which we mustn't over look because it's one of our objectives for the season.
Then there's the match I don't need to tell you about against Milan. Everybody's talking about it. But we know we've got other important games before that quarter-final of the Champions League. We'll have time to think about that in a week.
The trap would be to start thinking about Milan now. Before then we've got two league games and a Cup clash and we would lose a lot in that week. In ten days we'll start thinking about Milan. I'm confident we know what we have to do.