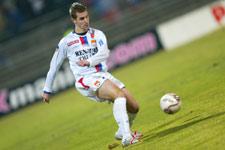 François Clerc and his agent were invited to a long meeting late yesterday afternoon by Jean-Michel Aulas, Bernard Lacombe and Marino Faccioli. The subject of this meeting was a new five-year deal with OL, which would take affect from 1 July 2006.

The new deal contained contractual propositions adapted to his new status. The Club hopes that François Clerc will be favourable to the initiatives of the club and his own continuing development and agree to the new deal.
The club also hopes to keep hold of this rising star of French football, who has started 13 league games this season and was called up to Raymond Domenench's side for France-Slovakia recently.