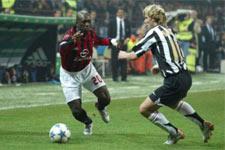 For any other team, getting a point from a trip to the Stadio delle Alpi would be considered a more than respectable result. But looking at the faces of the Milan players last night, it was easy to see their disappointment as the Scudetto slipped away for the second year in a row...
Thanks to the points apiece, Juventus maintained their 10-point lead at the top of the standings over the Rossoneri and edged ever closer to a 29th league crown and a third star, synonymous with 10 championship titles.

Yesterday, Carlo Ancelotti's side deserved more. After a first half marked by the defensive approach of the Turin giants, the second was a more open affair, but the Milan strikers couldn't find the back of the net.
Despite the sending off of Genarro Gatuso in the 70th minute, Andrei Shevchenko and Co could still have claimed all three points were it not for Chiellini's save to deny the Ukrainian in the dying seconds of the match.

Next Sunday, Seedorf and his teammates head to Udinese as they try and defend second place on the table, a place that means direct qualification for next season's Champions League.