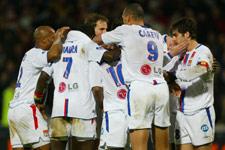 After beating PSV Eindhoven 4-0 on Wednesday, Les Lyonnais, who also celebrated the births of four little Lyonnais this week (Abidal, Müller, Fred and Caçapa), were still smiling as they rifled another four league goals passed Metz.
Chasing lost points, the Lorraine outfit has knuckled down for the final run home and taken nine points from its last five games – undefeated since the end of January. Monaco and Marseille were sent packing empty handed while Nancy, Bordeaux and Auxerre were forced to share the points… It's a positive record that's had the Metz fans still believing in a possible survival miracle. Five points above them in 17th place Troyes haven't won since 15 January (five defeats, three draws).

Like a lot of the players travelling to the Stade Gerland, Souleymane Youla told his club's official website that they have 'nothing to lose'. The roasting they received in the first game has been forgotten, as have the rumours of match-fixing surrounding that match.
Joël Muller is looking for at least another point as his side try and climb out of the danger zone in the three months remaining... Lyon want to edge closer to the title. Indeed, it's back to the daily grind for Gérard Houllier and his team, with their Champions League quarter-final ticket safely in the pocket. The same three strikers from the first game started this one… would the result be the same? There's 90 minutes to find out, after a one minute silence dedicated to Christophe Servignat, a member of the Bad Gones…

The match began with a violent shot from Souleymane which was well saved by Grégory Coupet.
Les Lyonnais had been warned, Wimbee and Co weren't gpoing to sit back and defend for 90 minutes. Of course neither were Lyon, who have learnt their lessons from Rennes.

At the other end of the field, Carew took over after a dribble-fest from Juninho and got into a shooting position, only to be thwarted by Borbiconi (8').

They set Lyon in motion and the demonstration had begun. A flowing passing move, started and finished by Malouda saw the Guyanais fire home, right-footed, past Wimbee (13'; 1-0). Malouda, brilliant in the first match, obviously enjoys playing Metz.
Juninho then delivered his second assist of the evening onto the head of Carew just three minutes later. The Norwegian, who hadn't scored since his goal against PSG, doubled the mark just after a quarter of an hour.

The shots were firing in from everywhere and Metz were taking water. Müller, Djila, Juninho, Tiago, twice, and then Carew… The team in yellow were unable to get their foot on the ball. Malouda then added his second and Lyon's third from a new Juninho service (34'; 3-0).
Coach Muller was forced into his forced change. Alioui, the former Lyon defender made way for Bassong (35').
A Juninho free-kick then cannoned off the angle of post and crossbar as Wimbee enjoyed a moment's good fortune.
Malouda, perhaps superstitious (?), decided to try his luck from a Juninho pass... who knows? His shot was somehow blocked by the Metz 'keeper and Carew was unable to turn home the rebound from just five metres out. Mr Lannoy then blew for half-time.
Sidney Govou was enjoying the show from the stands while new dad Fred was given the night off.
In the second half OL looked even better. Tiago's acrobatic effort missed the target. After an hour, Tum took his first shot of the match, but could only find a well-placed Coupet. Pedretti and then Benzema came in to rest Tiago and Wiltord, respectively. The fluidity of Lyon's game oozed confidence and simplicity. Djila then took on Wimbee after a neat one-two, but the 'keeper did well.
Ben Arfa came on for 'Les Rouge et Bleu' and Contout did likewise for the visitors. Juninho's effort from 30m out wasn't strong enough to beat Wimbee (82').
With Lyon totally in control, the intensity ran out of the match. From a new Juninho corner, Wimbee punched but only as far as Müller who volleyed home to complete the scoring and the match (4-0; 91').