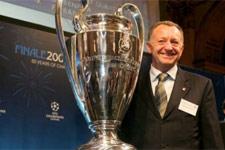 Reactions to the Champions League quarter-final draw.
Jean-Pierre Escalettes (president of the FFF): It's a tough draw, but how could that have been avoided when you see the quality of the teams left in the competition. OL are one of the teams that can win this year's crown. We not here to find the easiest opponent but to go all the way to the final. French football has everything to gail from this type of match.

Bernard Lacombe: It the top of the pile now. AC Milan and Barcelona are currently Europe's two best teams. They are a very, very good side. We have the good fortune to return to a stadium that we already know, the San Siro, having played Inter there. We have a pretty good record against Italian sides having beaten Lazio and Inter.
Some people have said that they have an old squad. I remember when I was playing for Bordeaux and the when we lost the president said we were old and when we won he said we were experienced. That's why we have to look out for that team. Their players have a lot of international caps between them and most of them have all played over 80 Champions League matches each. We're just starting to gain a bit of experience.
We have to remember that the PSV side we just beat caused Milan a fair share of problems.
Milan's strike force obviously impresses an old forward like myself. Chevtchenko is certainly an exceptional player, but Gilardino impresses me the most. I saw him play when he was at Parma.

Raymond Domenech: The real question is: 'Who will be in the final?" It's hard to say when we look at the fixtures. I won't try and pick a winner because I'm very bad at that.
Laurent Blanc had a heavy hand for Lyon, but there's a chance. It would have been better to play the return leg at Gerland but I don't think Lyon are finished yet.

Jean-Michel Aulas: I'm happy because it will be a tough match, but a match of an extremely high standard.
It's against last year's finalist who probably deserved to win it. They want to right that wrong. They play good football and OL likes teams that play good football. We knew that there were only great teams left and to get to the Stade de France, we have to go past them. The final is in France so we have to be there. To get there we have to be even tougher than usual.
It's a match that everyone has been waiting for in Lyon. It will be a huge party. Milan is a team we've never met in this competition, a mythical club.
We're going to prepare for such a match and do everything to give our supporters a semi-final. We're going to Milan to continue the adventure and we'll tackle it in the same way we did PSV.
Don't forget that Milan lost to PSV and that over two legs they caused them problems.
To play the first leg at the Stade Gerland is obviously a handicap, but we'll have Juninho for the second leg. That's a big advantage because we know he likes scoring free-kicks away, at places like Werder, Bayern and Olympiakos. We have to take it as it comes and we'll also have our injured players back by then.