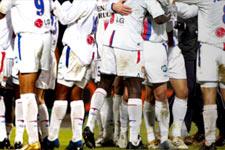 Réveillère and Govou are back in a squad still deprived of Cacapa, Monsoreau, Berthod (injured) and Fred (suspended).
The Squad:

Abidal, Ben Arfa, Benzema, Carew, Clément, Clerc, Coupet, Cris, Diarra, Diatta, Govou, Juninho, Malouda, Muller, Pedretti, Réveillère, Tiago, Vercoutre, Wiltord.

Gérard Houllier:

First of all Gérard, a word on the draw?
"It's a very exciting draw, a real opportunity for this club. AC Milan is probably the most consistent club in Europe in recent times. In the Champions League, the first match, whether it's home or away, is always the most important. As a coach I've played them twice; once with PSG and once with Liverpool. But we'll discuss Milan later, I've got Metz on my mind. "

Will you be bringing some freshness for the Metz match?
"I'm not going to tell you anything because I read some things before the PSV game that shouldn't have been revealed. All I'll say is that I'll be choosing a big squad for each game noww that we're fighting on three fronts. The team knows what it has to do, it knows that Metz has changed since the first match. They have some quality. I also think the team will be less worn out mentally and physically. Between PSV and Rennes I hadn't considered the fatigue as serious as it was, including the subs. Here, the team is happy with qualifying and then we'll have a whole week to prepare the match against Sochaux. I remind you all that the fifth league title is the club's number one priority. The Champions League is just the cherry on top of the cake and obviously we want it to be as big as possible. To go from the league to the Champions League and back again is normal for us... it's part of our obligations… "