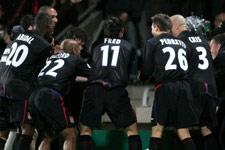 At the Stade Gerland, Les Lyonnais dominated PSV and ran out 4-0 winners. They are qualified for the quarter-finals of the Champions League… for the third time in a row.
OL has played eight matches in this season's Champions League: seven wins and one draw; 18 goals scored and four conceded. To date, only Barcelona boast a similar record. 23 players have taken part in the eight games and no player has played all 630 minutes. Only Carew and Wiltord have played in every game.

OL have been awarded 143 free-kicks; their opponents 137. Les Lyonnais have taken 137 shots for their 18 goals; 73 on target. Carew has taken 30 shots for four goals; Juninho 27 shots for four goals (4 free-kicks). "Juni" has taken 16 free-kicks and one penalty in his 27 shots. Govou 14 shots for one goal; Fred 11 shots for two goals; Benzema nine shots for one goal; Wiltord nine shots for two goals… Their opponents have taken 78 shots at Coupet's goal.

Coupet has made 48 saves, including five decisive saves; Vercoutre made seven saves against Rosenborg.

Caçapa and Co have received 16 yellow cards: Juninho 3, Diarra 2, Tiago 2, Berthod 1, Coupet 1, Carew 1, Cris 1, Réveillère 1, Cacapa 1, Pedretti 1, Govou 1, Wiltord 1. One red card: Govou.

Juninho is suspended from the quarter-final first leg.