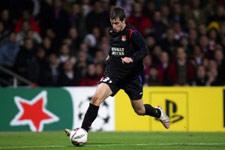 How's the ankle?

I've got a huge bruise above the ankle. I took a big knock but it wasn't the actual ankle. I saw the replays last night and it was pretty impressive, but luckily for me it was more of a fright than any real damage.
Have you discussed the match with your teammates?
Not really. Obviously we were very happy with win, but we don't want to make the same mistake as we did with Rennes. The switch between Champions League and the L1 can often be a bit tricky.
So we're already thinking about this match against Metz and get back into the league. We'll start focusing on this match and we'll be ready on Saturday.
The game against Metz will be a tough one. We have stick together like we can and also pay careful attention to them because they've been in form recently. We'll have to stay concentrated and organised, challenge for everything and do a lot of running, then we can reach our goals.

What did Fred do with his dummy? I don't know. Befor the game I didn't know he had it. He hid it from us very well. He scored an absolutely superb goal with a brilliant feint. Everyone was hoping he would score after the birth of his girl and he did, so I'm delighted for him.

Are you thinking about the Champions League draw?
Of course it's floating around in my head. We'll know tomorrow.

Who do you want to play?
I don't mind, there's only big teams left. Perhaps it would be best to avoid Barcelona because they really seem to be in a different class. To play them would be a dream come true but I'd prefer it a bit later than the quarters. AC Milan and Juventus are both big teams. Whatever happens we'll get a big team.
We don't need to be afraid of anyone because over two legs anything can happen. In the quarter-finals, everyone can win it as we've seen in recent years. My only hope is that we host the second leg.
One thing is certain: if we want to get through the quarter-finals we have to keep playing well.